How to Draw a Halloween Pumpkin
Welcome to drawingforall! Today, we have prepared a lesson on a very autumn  theme. As you have seen from the preview, today we will draw a pumpkin for Halloween. This beautiful, colorful holiday first was the prerogative of the inhabitants of the Western part of the world, but now Halloween is becoming a truly global entertainment.
Let's go back to our pumpkin. Incidentally, this is not just a pumpkin – according to an old Irish story, ack-o'-lantern looked like a pumpkin with a carved face. And we begin a lesson on how to draw a Halloween pumpkin!
Step 1
We start drawing our pumpkin with such a circular flattened shape. We would like to note that you can draw a pumpkin not only round but oval.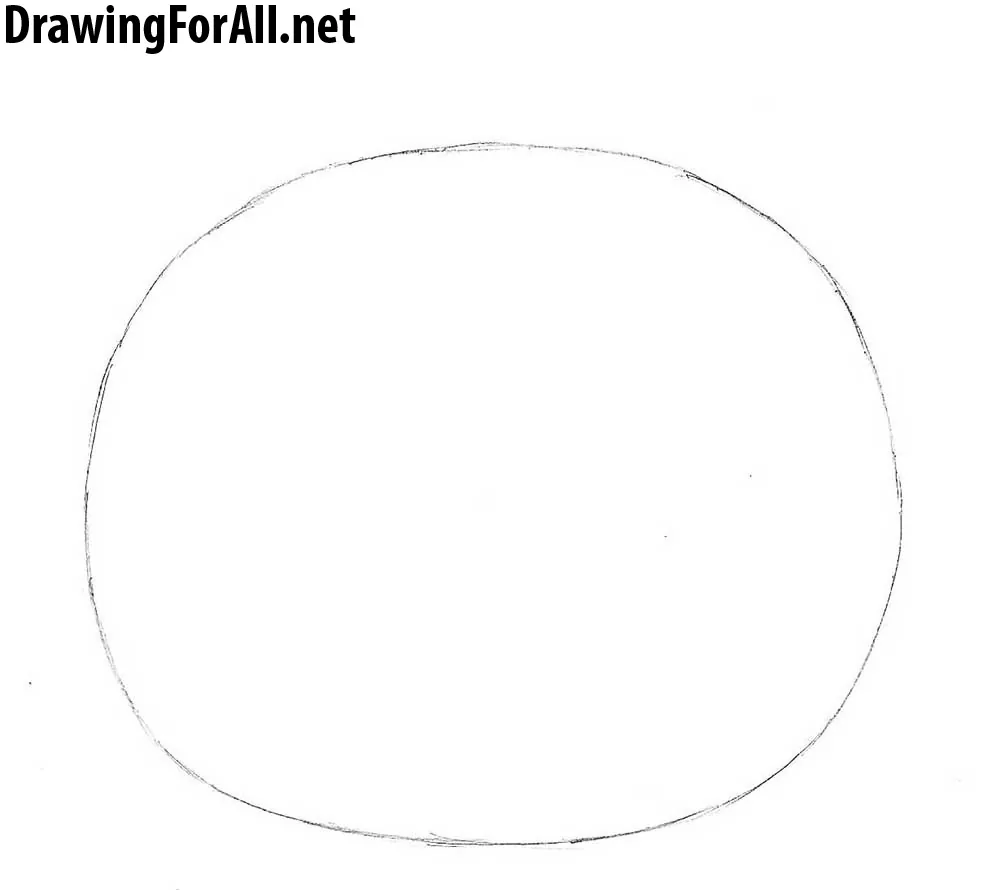 Step 2
Mark up the pumpkin as the real face. We draw these lines for all lessons, where we draw a human face. Despite the fact that now we are going through a lesson about how to draw a Halloween pumpkin, here will apply all the rules of the drawing of a human face. Therefore, draw a vertical line of facial symmetry – it will divide the pumpkin into two equal parts and the horizontal line of the eyes.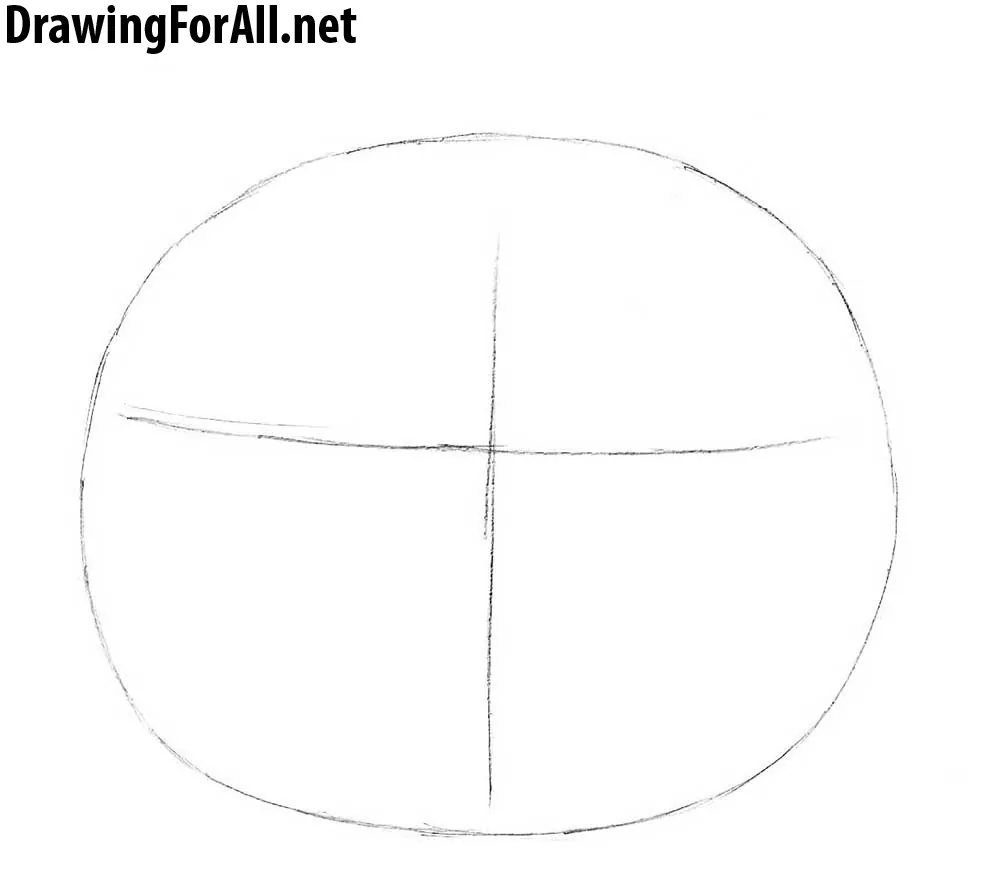 Step 3
Now draw facial features. Remember, that they are quite rough cuted of a dense pulp of pumpkin, the outlines must be angular and sharp. The nose looks like a triangle, eyes like half circles with carved edges, angular mouth like a snake.
Step 4
And now you can look at a lesson in which we told you about how to draw a pumpkin. Now we start doing the exact same steps as there – outline the tail of the pumpkin and lines that divide the massive fruit into large segments.
Step 5
We continue to draw the segments on the pumpkin. They should form rounded lobes, with note – lines approach each other In the bottom and top, and extend the center. By the way, this lesson will be useful to you if you want to draw a pumpkin bomb for Green Goblin or Hobgoblin.
Step 6
In the final stage we add the shadows. It should be done by light hatching. The lines should be approximately the same distance from each other. Add the slightly curving shadows to the stem, light shadows on the top and bottom of the pumpkin and smooth strokes inside the eyes, nose and mouth. In order to give effect of luminescence, add the strokes of shadows outside inwards.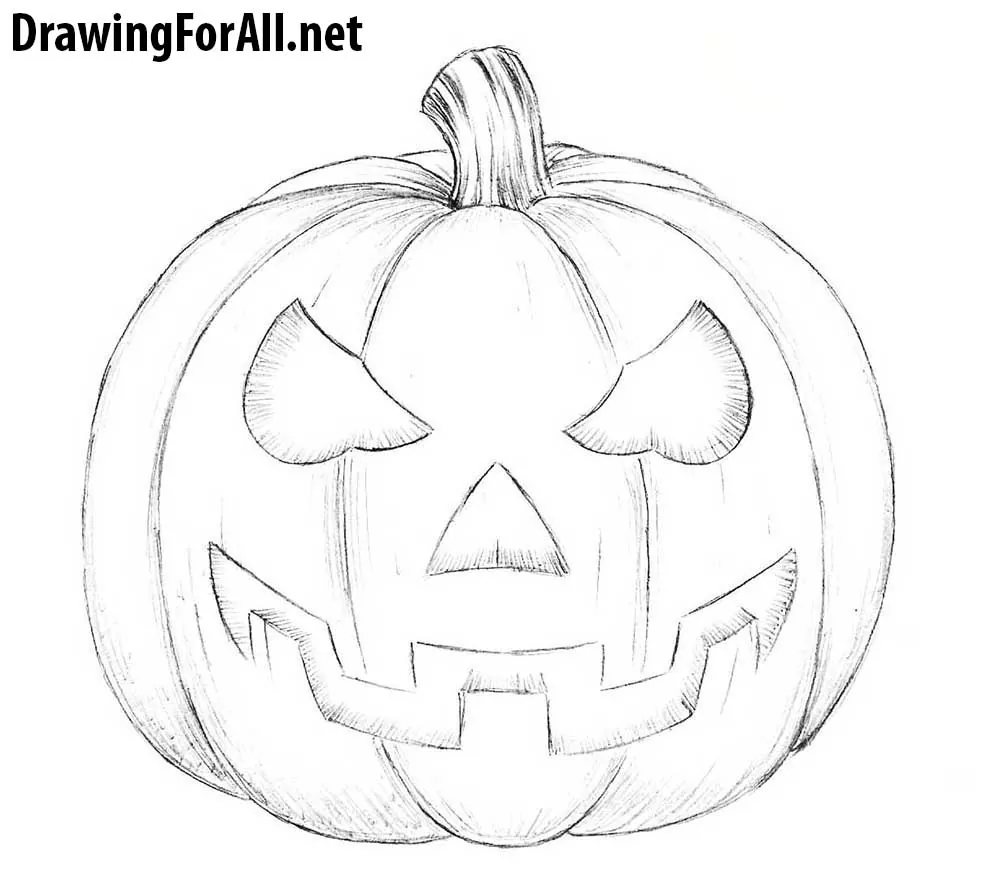 It was a lesson in which we talked about how to draw a pumpkin head for Halloween, prepared by artists of DrawingForAll. Come to our FaceBook, Google Plus and Pinterest groups to learn more on how to draw!