How to Draw a Chevrolet Spark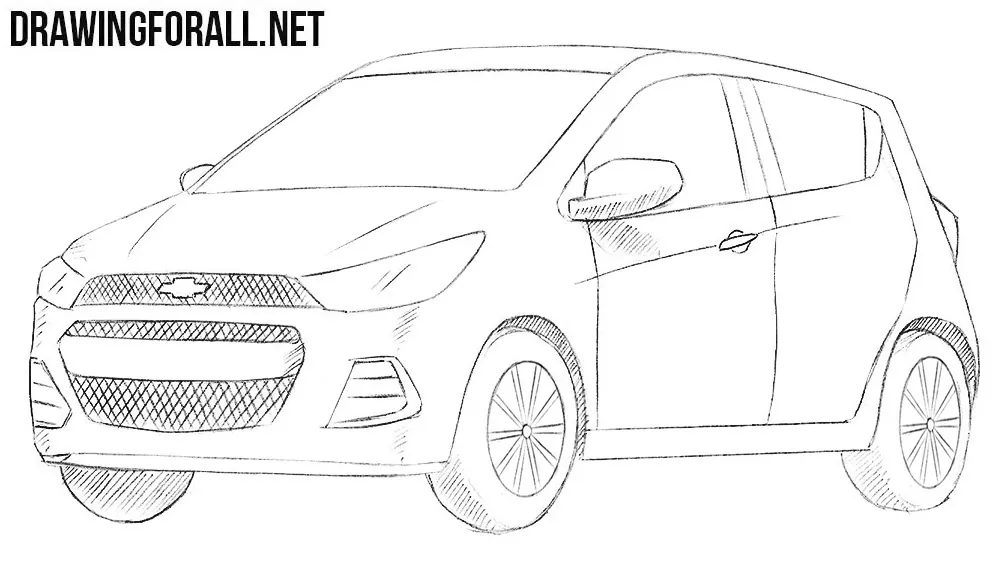 Hello dear artists and car lovers. We've already shown you a lot of drawing lessons about cars, but basically we drew big sports cars, such as Audi and Ferrari. Therefore, in this lesson we decided to show you how to draw a Chevrolet Spark – a small city car.
Step 1
So, we always start our drawing lessons with the basic outlines of the car, and at this step the car looks more like a box. Using light lines draw the outlines of the car's body, as in our example. The car looks pretty short and tall.
Step 2
Now let's draw the main parts on the car body. In the front part we draw the headlights and grille. In the lateral part sketch out wheels and wheel arches. Remind that in the first two steps we use very light lines.
Step 3
Starting with this step we will use clear and dark lines. Carefully draw out the elongated headlights of the Chevrolet Spark, and the radiator grille , divided into two parts – a small upper and a large lower one.
Step 4
Continue drawing tutorial on how to draw a Chevrolet Spark. A little below draw out the lower edge of the bumper. Just above the headlights carefully draw the lines of the hood.
Step 5
Continuing the hood lines draw out the roof and the windows of the car. Windows, like all other parts of the car should look small and neat. In the same step draw the mirrors.
Step 6
Now let's move on to the side of our car. Carefully draw out doors and handles. At the same step draw the back of the Chevrolet Spark.
Step 7
Proceed to the lower part of the car and draw out the wheels and arches. Try to make the lines as smooth and rounded as possible.
Step 8
Using clear cross lines draw out the radiator grille. Next we draw rims (which of course can be of any shape). To give the car a more three-dimensional appearance we add shadows.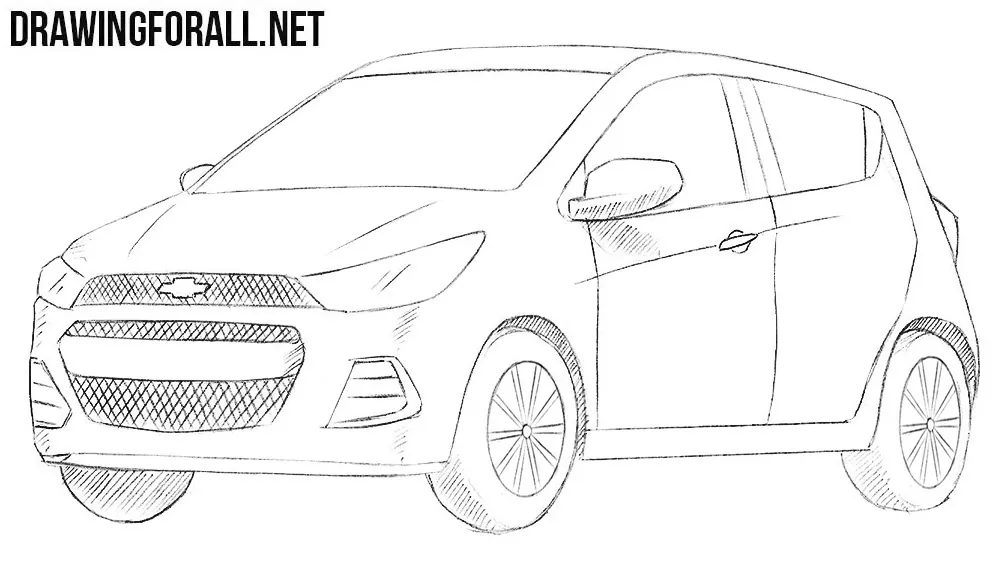 In this drawing lesson we showed you how to draw a Chevrolet Spark. We hope that you liked this drawing lesson and you will share it with your friends and subscribe to us on social networks. Perhaps if you have already visited our other drawing lessons about cars you can say that they all look alike. This is not so, because in fact all cars are similar to each other and they differ mainly in details, such as the shape of the body or headlights. And in our drawing lessons we try to show the features of drawing different cars.