How to Draw Wolverine Claws
Hello everybody! We have prepared for you a very interesting and at the same time a pretty simple drawing tutorial on the Marvel Universe. Today we will draw one of the most brutal and uncompromising comic book characters.A superhero, samurai and man of honor – Wolverine. In one of our previous tutorials we have learned to draw Wolverine. In another lesson we learned to draw Wolverine's head. And today we will learn how to draw Wolverine claws. Wolverine first appeared in 1974 in The Incredible Hulk comic #180. Since then he has been in dozens of different images. At various times, the various artists have changed his appearance and claws are also have changed. Downstairs, in the picture, we have presented only a few species of claws.
Classic claws;
Claws from the movie;
Bone claws.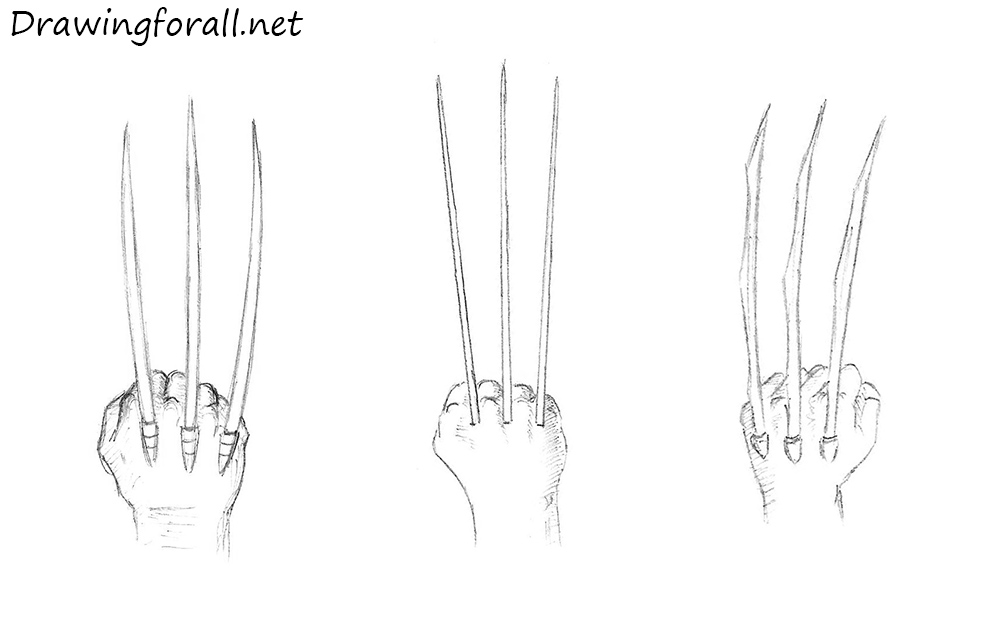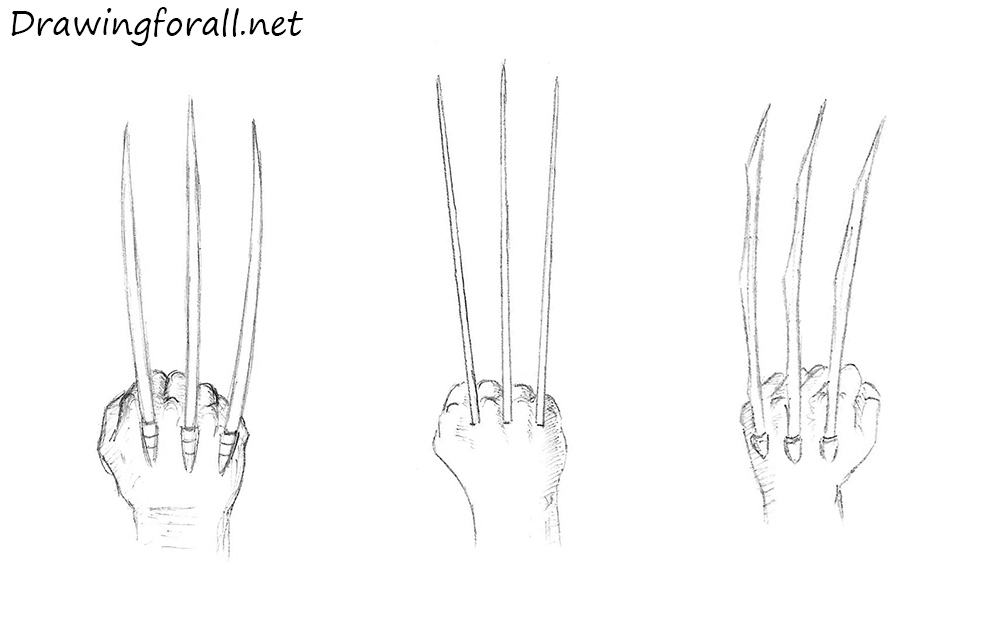 In this lesson we will try to show you the most simplified, but at the same time the best way to draw Wolverine's claws. We will show you, how to draw claws from three different points of view. Train to draw claws on all sides, and you learn to draw them perfectly. So let's start the tutorial!
Step 1
First sketch out the contours of a fist. In the first stage, do not try to draw it perfectly. We only need to sketch the general contours. Then using the usual lines outline the claws. Then using the usual lines outline the claws. In various versions, length of the claws can be different.  You can draw  them any length, but the distance between them must be the same.
As we have said, we will draw a hand with claws on three sides – front, back and side.
Step 2
Start to add details. First, outline the fingers and knuckles. Then add volume to the claws. Note that claws are narrows from the place where they come out from the fists to the ends. Also note that the middle claw visually seems longer than the others.
Step 3
In this step erase the guidelines. Accurately draw the lines of the claws. Make them more smooth and neat. Do not forget to follow so that the claws were at the same distance. Add the wrinkles and folds of skin to the fists and move to the final step.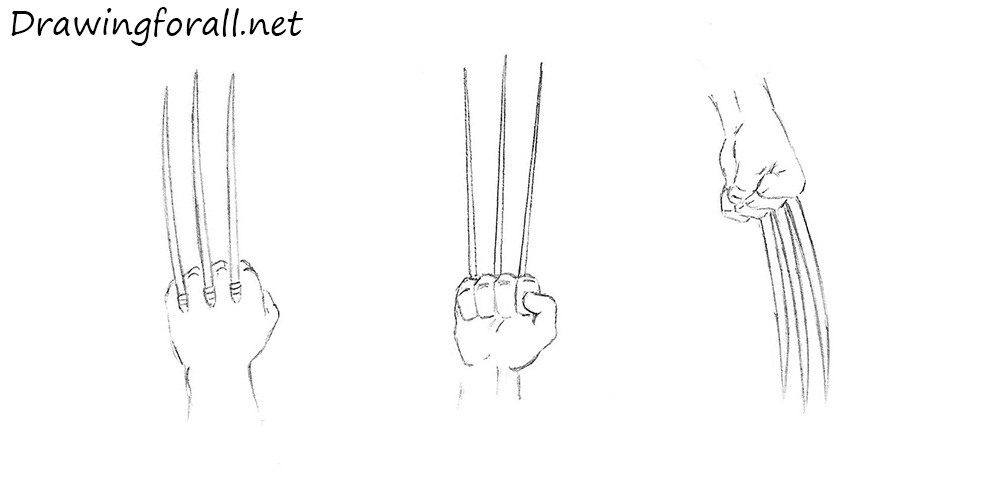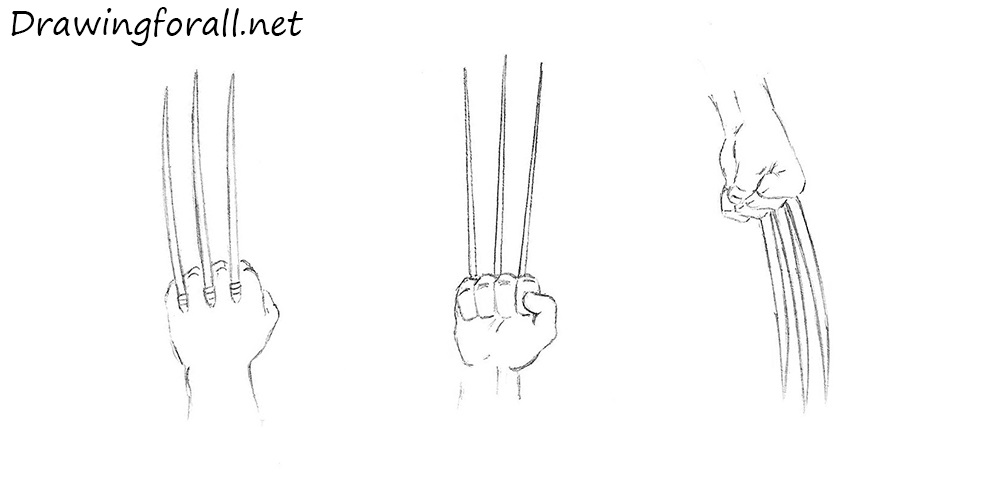 Step 4
At the final step we will add shadows. You can put a contrasting shadows, or light shadows, as in our example. Such shadows are better to add by using of hatching. Strokes should be smooth and be at the same distance from each other.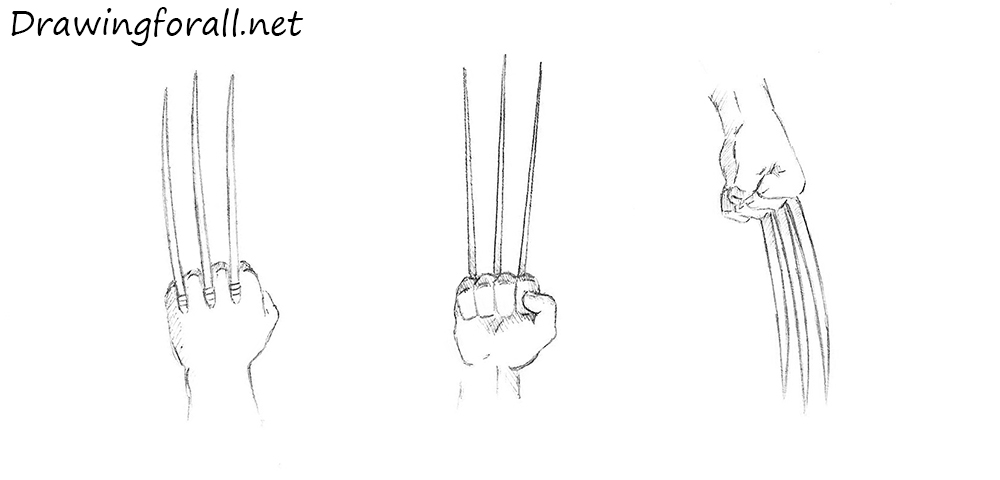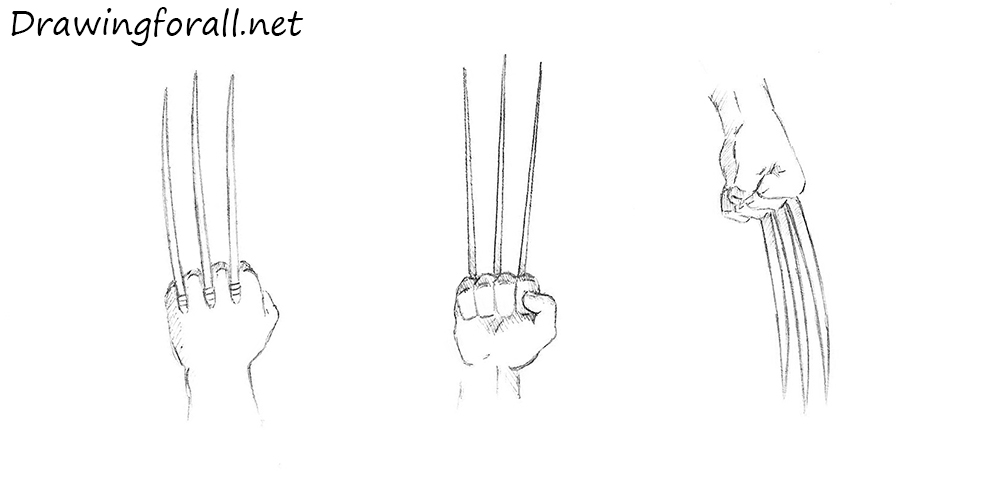 In this tutorial we have shown you how to draw Wolverine claws from three different points of view. But with the help of this lesson you can draw claws in any position and from any point of view. Exercise in drawing as often as possible, and you will learn draw as a professional comic book artist.
We hope that this lesson was interesting and useful for you. If you enjoyed this tutorial, share it with your friends and do not forget to subscribe to us on the social networks. Stay tuned and wait for new drawing tutorials by drawingforall.net