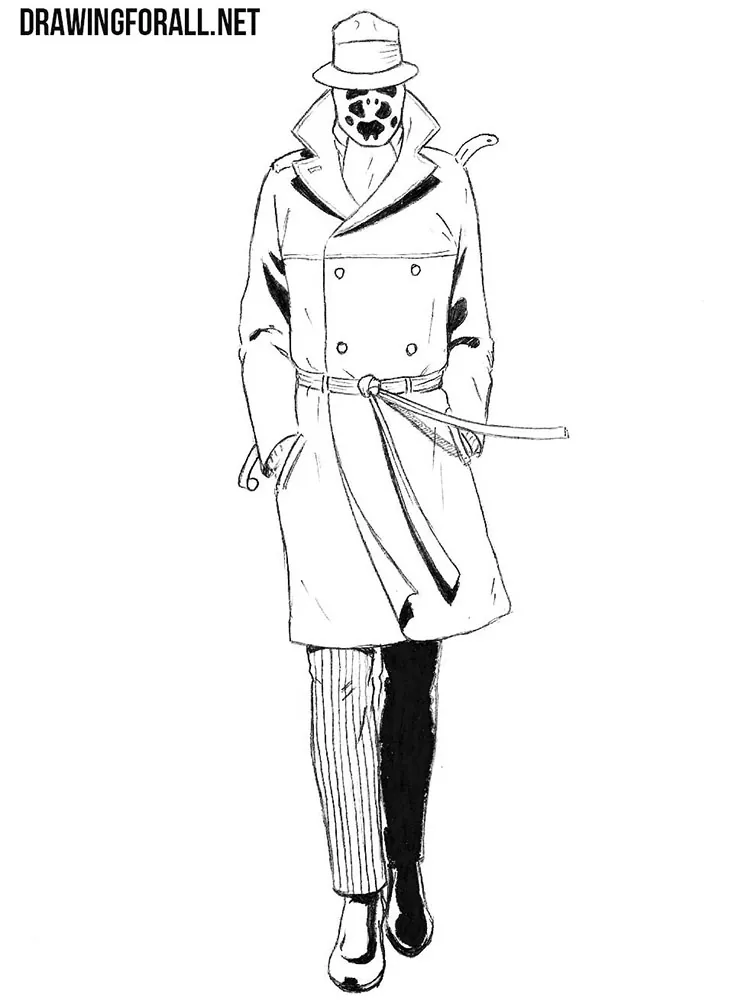 Hi everyone! Today we will draw Rorschach from Watchmen.
Rorschach is rather stereotypical and formulaic character. We could see a large number of harsh and uncompromising characters in other stories. For example, it is Max Payne and Punisher. But the idea and concept of the Watchmen is really gorgeous. That is why Rorschach became one of the most famous and recognizable comics characters.
So we begin this tutorial in which we will tell you how to draw Rorschach step by step.
Step 1
First we will draw a stickman.  As you can see, we have an ordinary figure of a slim man of small stature. This stickman is very simple, because he stands straight and arms are elongated along torso.
Step 2
In this step we outline silhouette of Rorschach, representing the parts of his body in the form of ordinary figures like ovals, cylinders and circles. Thеre is some things which will make the figure more graceful:
The shoulders should be wider than the waist;
The neck should be clearly visible (not like here

);
Thighs, lower legs, shoulders and forearms should be narrow and elongated.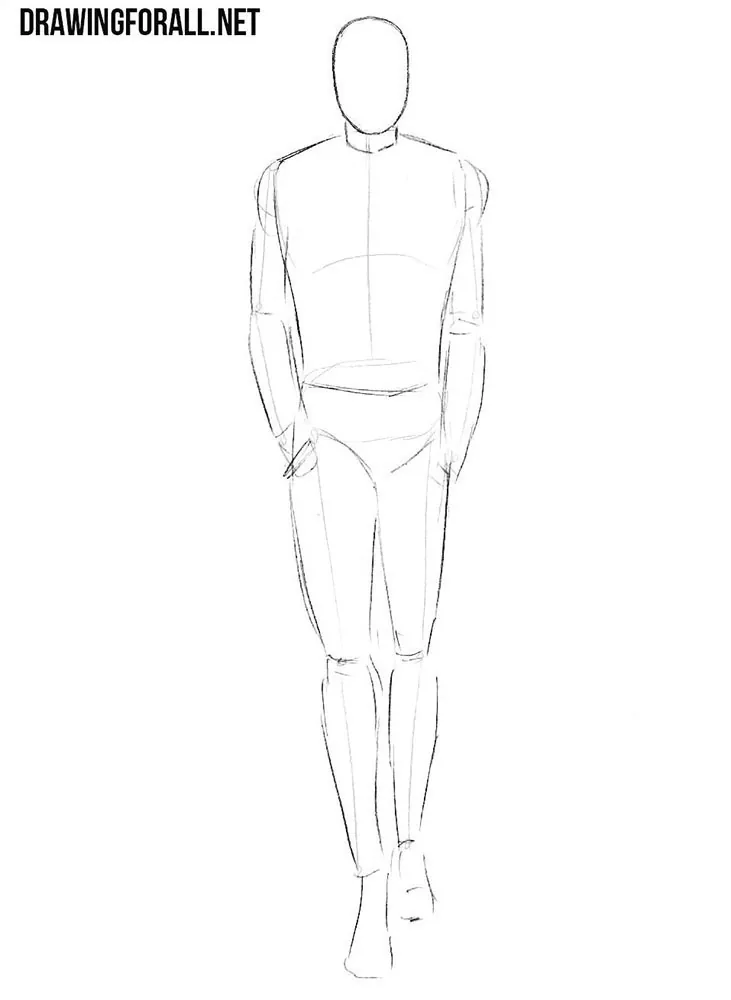 Step 3
Rorschach has a very recognizable clothing style. So we need to draw a hat, long coat and slim pants to preverse this style. It becomes a bit like slederman's drawing tutorial isn't it?
Step 4
Let's erase all unnecessary lines which located inside the hat's contours. Yes, it is a very easy action.
Step 5
Ok, let's add some details to the upper part of the body. Don't forget to draw the rim of the collar, buttons and small pleats which located over the belt.
Step 6
Now it's time to draw the hem of the coat, that is, the lower part of the coat, which is located below the belt. Also don't forget to draw the belt itself.
Step 7
Ok. We practically finished the detalisation. All we have left is working with the arms and legs. To do this, draw the contours of the coat and pants. Then apply the folds on the fabric as in our sample.
Step 8
So it is the end of this drawing tutorials. We only have to draw shadows. As you can see, the shadows here are drawn in the classic comic style – that is, black and contrasting shadows.