How to draw Antivenom step by step
Have a nice day everyone! Today we are pleased to introduce a new lesson on the Marvel Comics universe. The topic will be drawing one of the frightening heroes from Marvel – Antivenom.

This character is a part the story about symbiotes – Venom and Carnage. This monsters are mostly enemies of Spider-Man, but you can see symbiotes in other stories. For example, they fought against Wolverine and Capitan America. And our today's hero, Antivenom, also interacted with many Marvel's characters. But in the vast majority of stories he was a hero – periodically, he had to fight with Carnage and Venom. So let's start this tutorial to know how to draw Antivenom step by step!
Step 1
The first step is stickman's drawing. A head because the pose seems very large, and the body looks smal. The hands in shoulders form a straight angle.
Step 2
At this part of tutorial we will add some volume to the our hero's body. Look at this grant-size shoulders and powerful spine – Antivenom have a atletic body. Another specificity of this picture is unusual perspective – left us leg closest of all other parts to us, that's why it look so big. Also draw the vertical line of the facial symmetry, the lines showing where are the eyes and the lowest part of the horrible Antivenom's face.
Step 3
Draw a mouth, small eyes and long curly tongue. Facial lines from previous step will be very helpful.
Step 4
Draw ajagged patterns located around the eyes. Also, draw a small, sharp teeth. Look at this close-up:
Now look at the overall plan: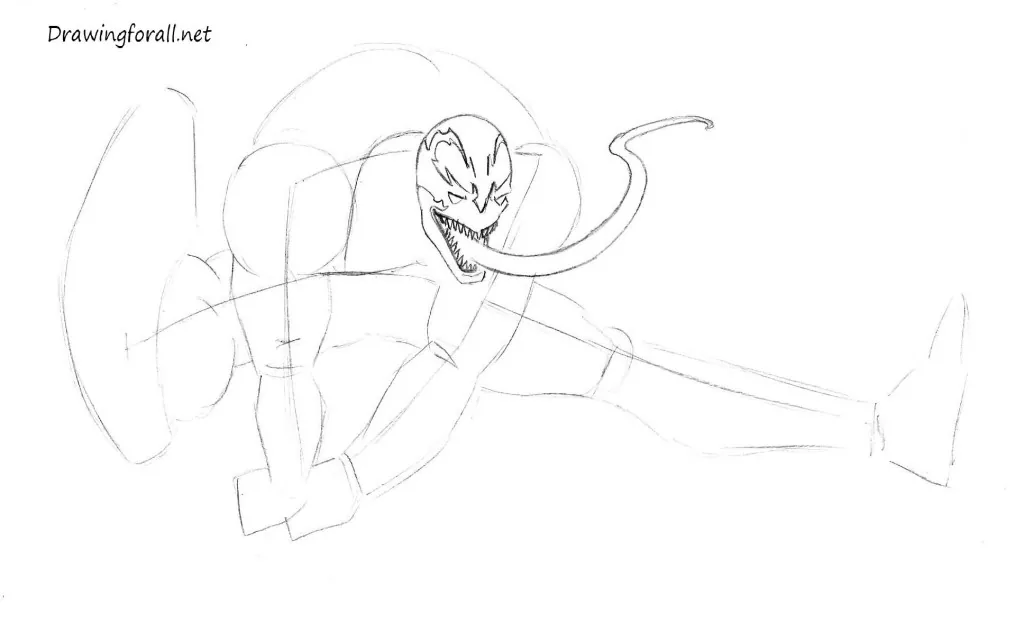 Step 5
Darken the contours of the body. Draw the major muscles of the arms and legs – biceps, triceps, thigh and calf muscles. Finally, erase all unnecessary lines and move to the last step of this tutorial.
Step 6
The lesson for today is a bright representative of comic style drawing. Therefore, shadows are bright and sharp, without a complex structure. Cast shadows are best in two stages – first to draw the outline of the shade, and then paint.