How to Draw a Realistic Cat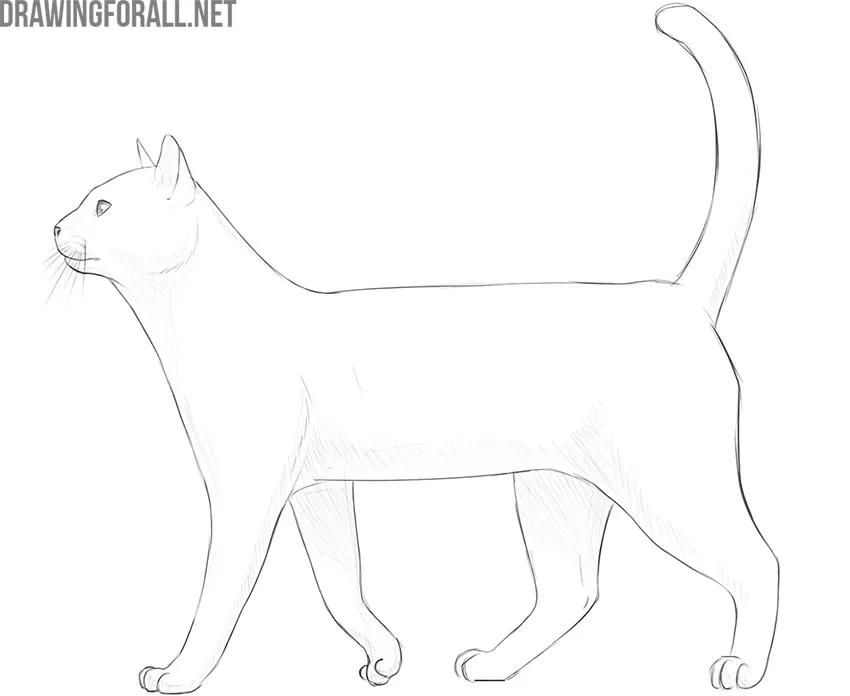 Today we will tell you about how to draw a realistic cat. This is a pretty simple tutorial that will get you great results.
Step 1
Firstly, create a cat's figure with circles and sticks. This is very similar to the first stage of drawing many human figures on our website.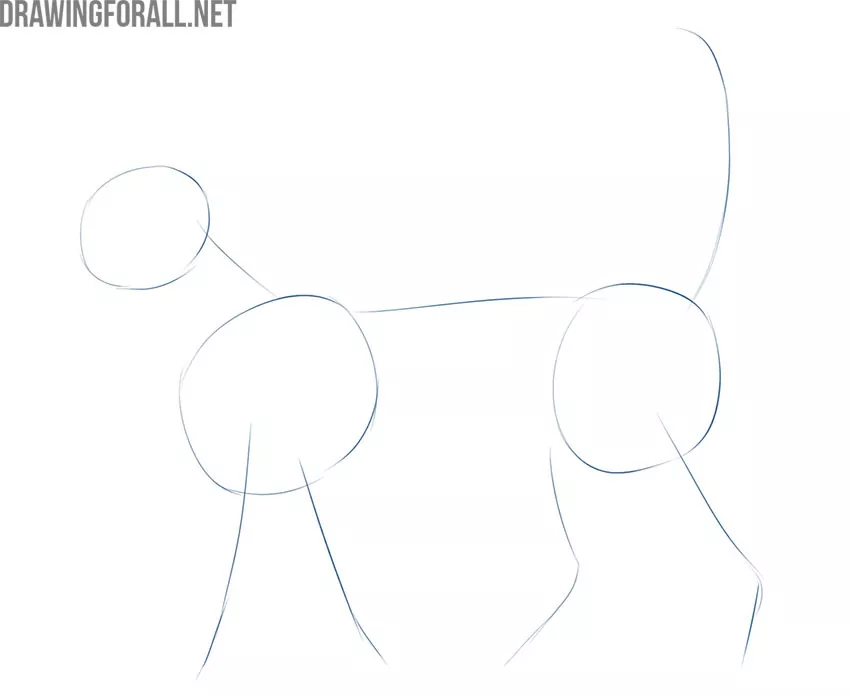 Step 2
Secondly, add the basic contours of the head and neck of our cat. Use simple geometric shapes, such as a truncated cone, triangles and ordinary straight lines.
Step 3
Then, create rough outlines of the front paws. Don't try to make it perfect, but keep a smooth tapering down. Also, define the joints with flattened ovals.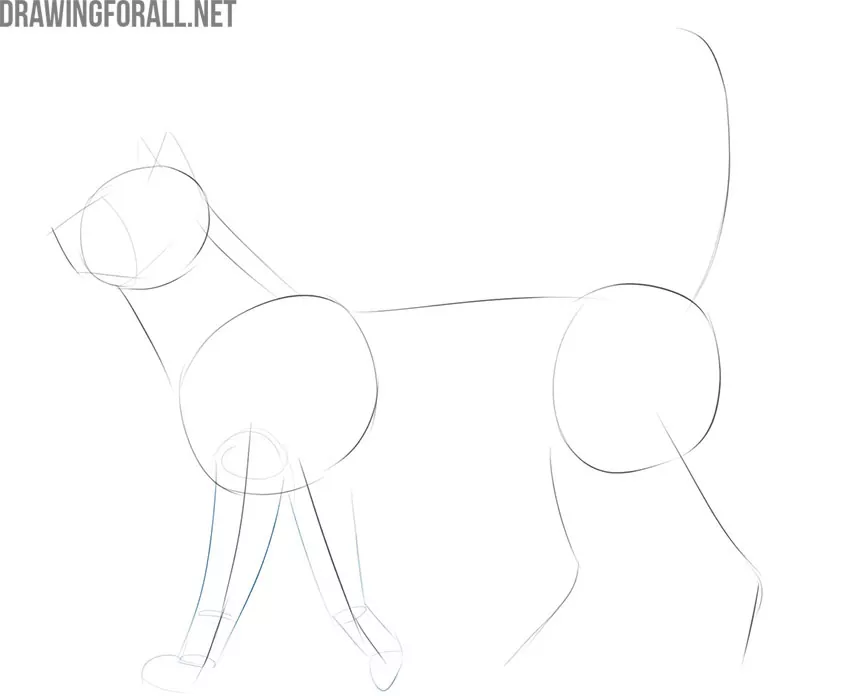 Step 4
Connect the front and back of the torso with two smooth horizontal lines. So, draw smooth contours of the tail with a slight bend.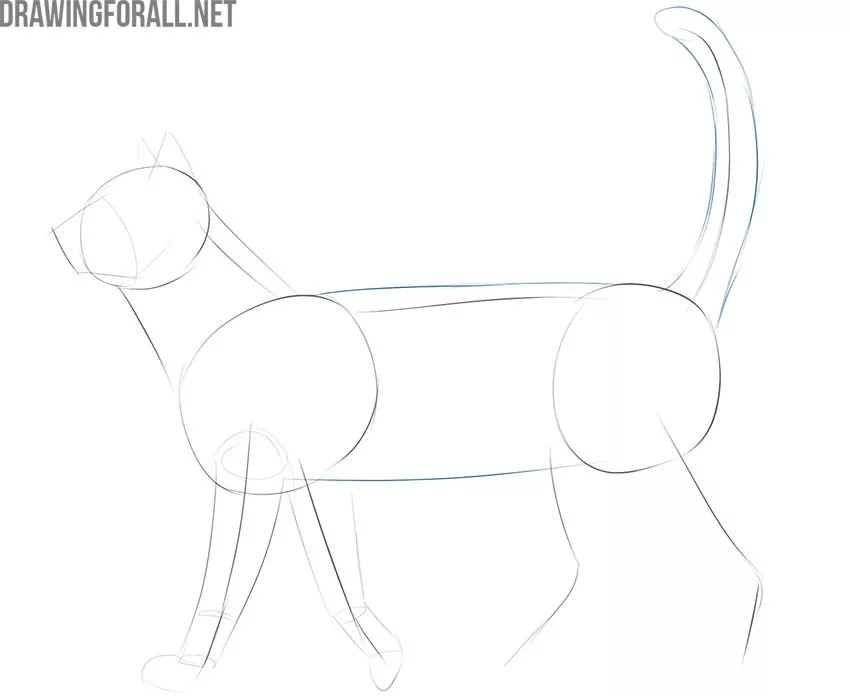 Step 5
The hind legs are always a bit tricky. Note the pronounced division into three parts. The lowest part is parallel to the floor.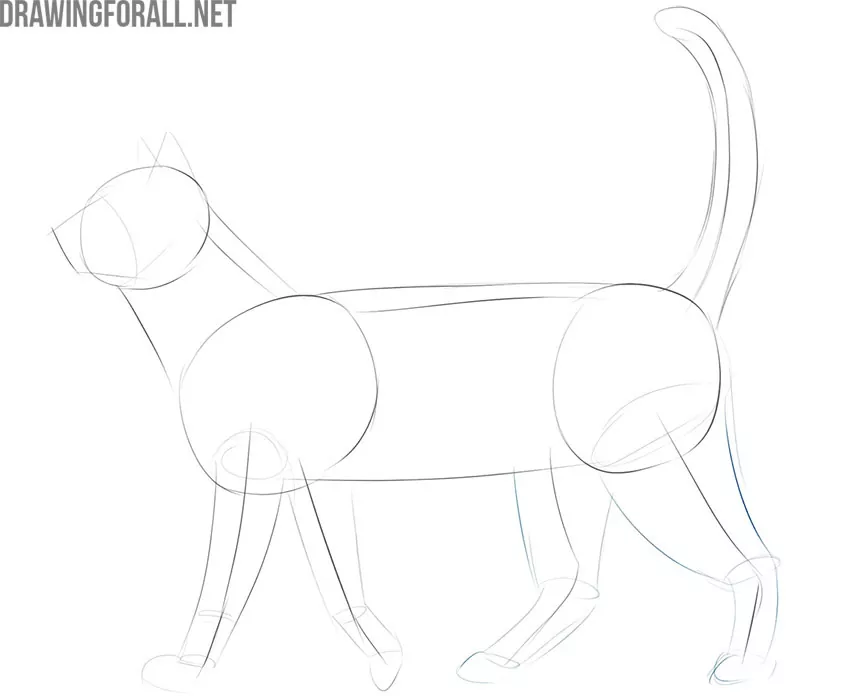 Step 6
Draw more precise outlines of our cat's head. Add smooth contours of the ears, nose and jaws. So, these are very small details, avoid too large shapes.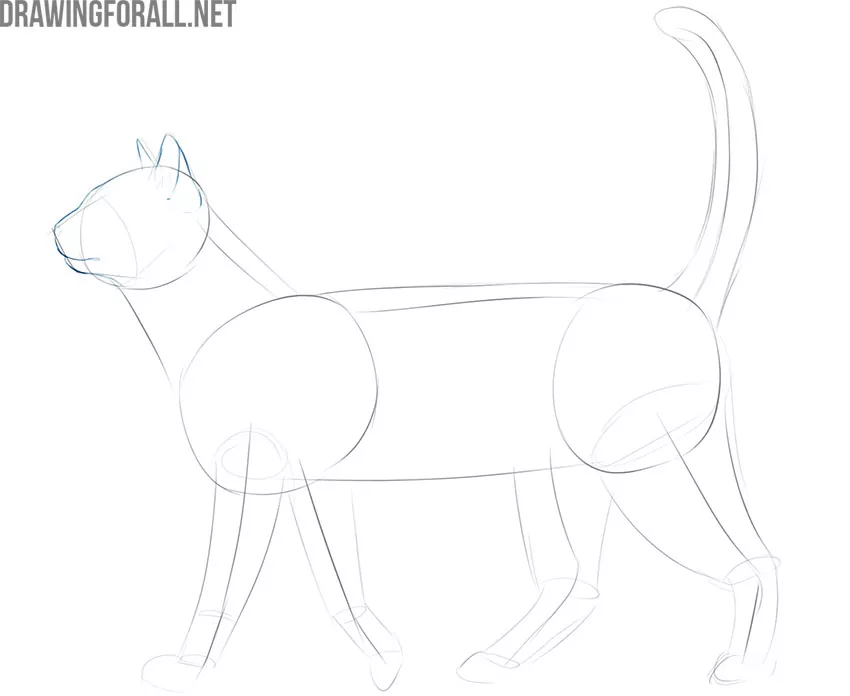 Step 7
Draw an eye, mouth, nose and mustache of our cat. Avoid too large figures – it will create a cartoon style. Use already drawn head lines as guidelines.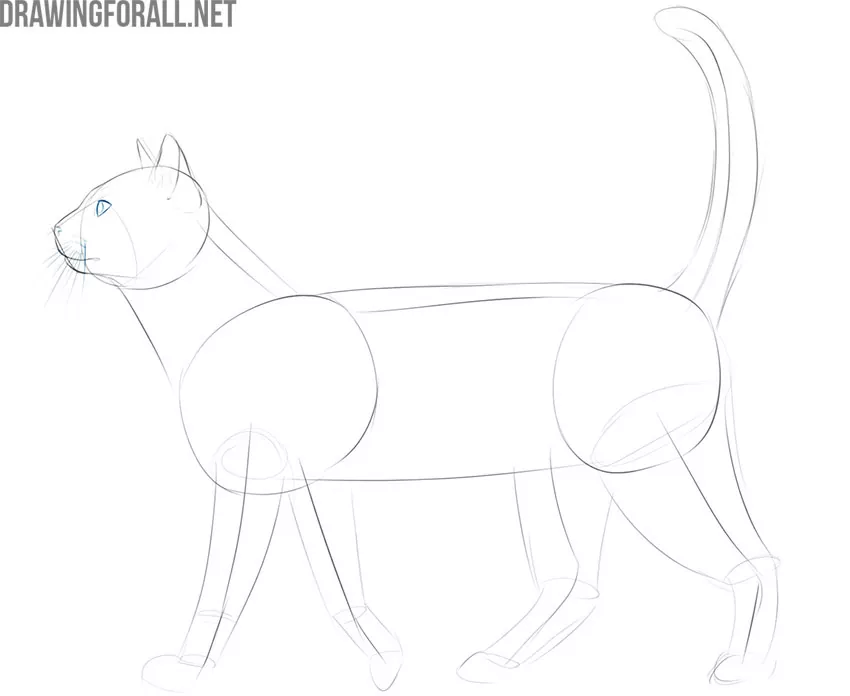 Step 8
Cats are very very quiet animals. In many ways, this stealth is provided by flexible and soft paws. So, let's draw it.
Step 9
Form the back of the cat's body and tail. These are the final contours, which should be very clear and correct.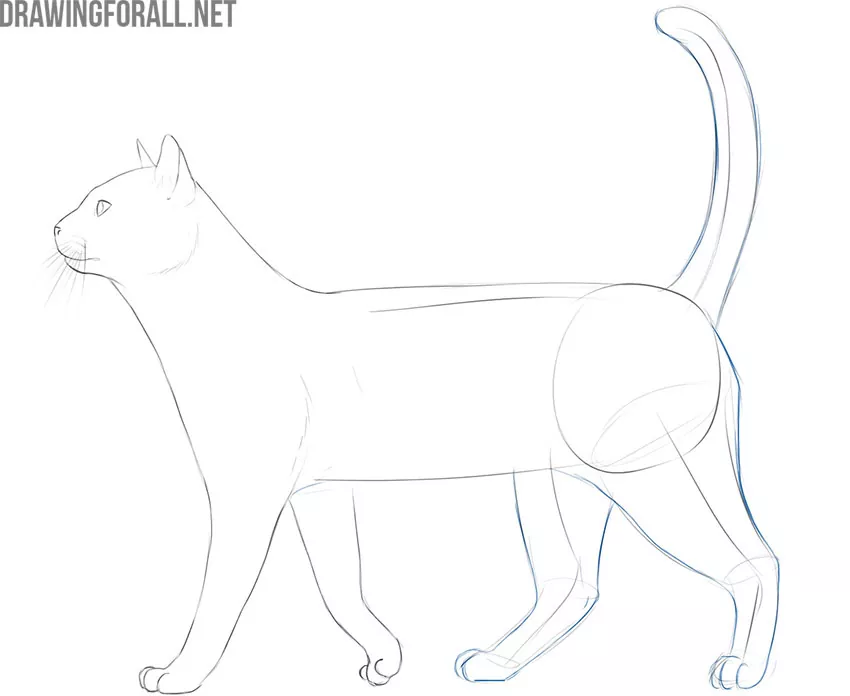 Step 10
Delete all extra lines. Check the correctness of all shapes and proportions. Pay special attention to the smoothness of the lines.
Step 11
So, draw small shadows on the legs and lower torso. Paint over the pupil and all the space inside the outline of the nose.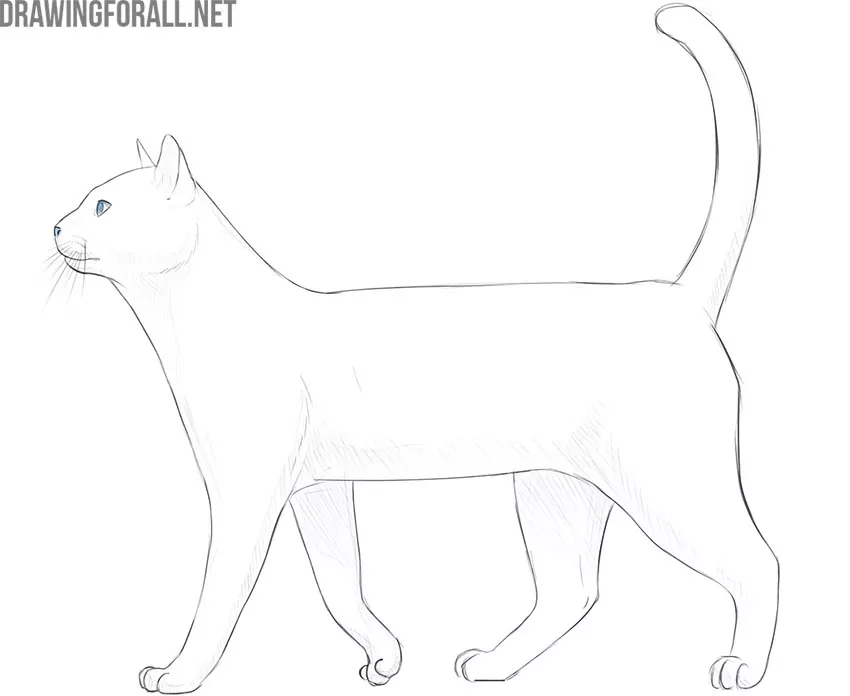 Step 12
As a result, you should get something like this art. You can also add additional shadows, highlights or interior details.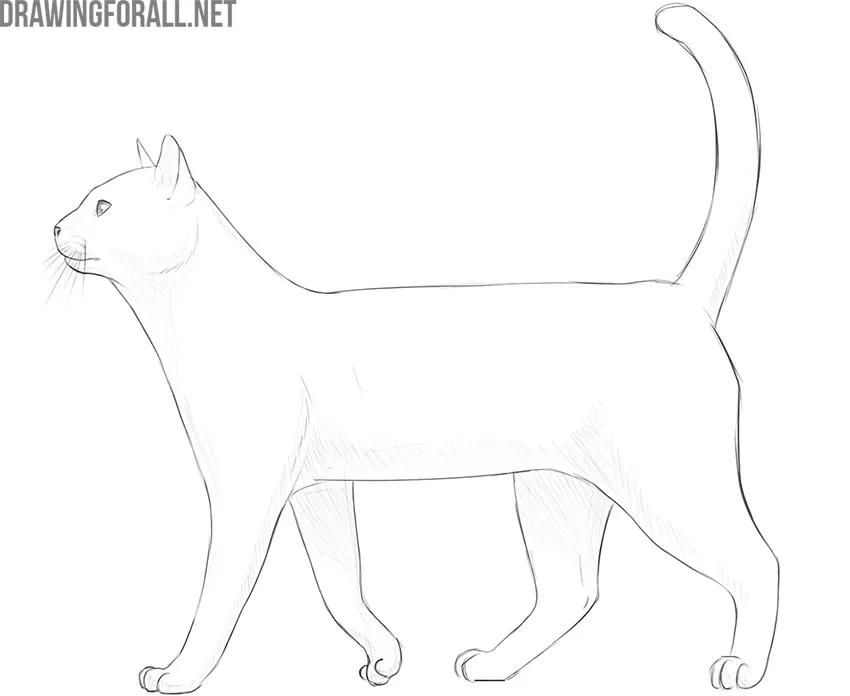 So, this is the end of our drawing lesson. We hope you have greatly improved your animal drawing skills. Don't forget to write us in the comments about your wishes for the next guides.