How to Draw a Dreadnought
The team of our site is very fond of the universe of Warhammer 40,000, and therefore we decided to create a series of drawing lessons on this universe. And in this lesson we want to show you how to draw a dreadnought – a large combat vehicle driven by a respected space martial hero.
Step 1
We need to start the drawing lesson with the main contours of the dreadnought. First of all, we sketch out the outlines of the torso, which looks like a big cube. Next, sketch out the outlines of huge arms.
Step 2
This step will be quite simple. Here we will sketch out the pelvis and outlines of the legs of the dreadnought. Do not forget that all the lines of the first steps of this lesson should be made using very light lines.
Step 3
So, now let's outline the most basic details on the dreadnought's body First of all, we sketch out the details on the "torso". Next, we outline the fingers on one hand and the machine gun on the second. Next sketch out the toes and numerous cables.
Step 4
Starting from this step, we will use clear and dark lines. Using straight and we will draw out the details of the dreadnought "torso". Gently repeat all the numerous lines and small details as in the example below.
Step 5
Now a very difficult step, In which we will need to draw out the arms in detail. Use dark lines to circle all the details of the arms of the dreadnought. Try not to get confused in all the numerous details and do not forget to remove unnecessary guidelines from the arms.
Step 6
In this step we will do about the same actions, but with legs, that is, using dark and clear lines we will draw out all the outlines and details of the legs of the dreadnought. Just as in the previous step, try not to get lost in the details, and repeat everything as in our example.
Step 7
So, the lesson about how to draw a dreadnought is almost complete, but it remains for us to add some shadows to make the dreadnought drawing more voluminous and realistic. By tradition, we will add shadows with the help of dense hatching in those areas where the light does not fall.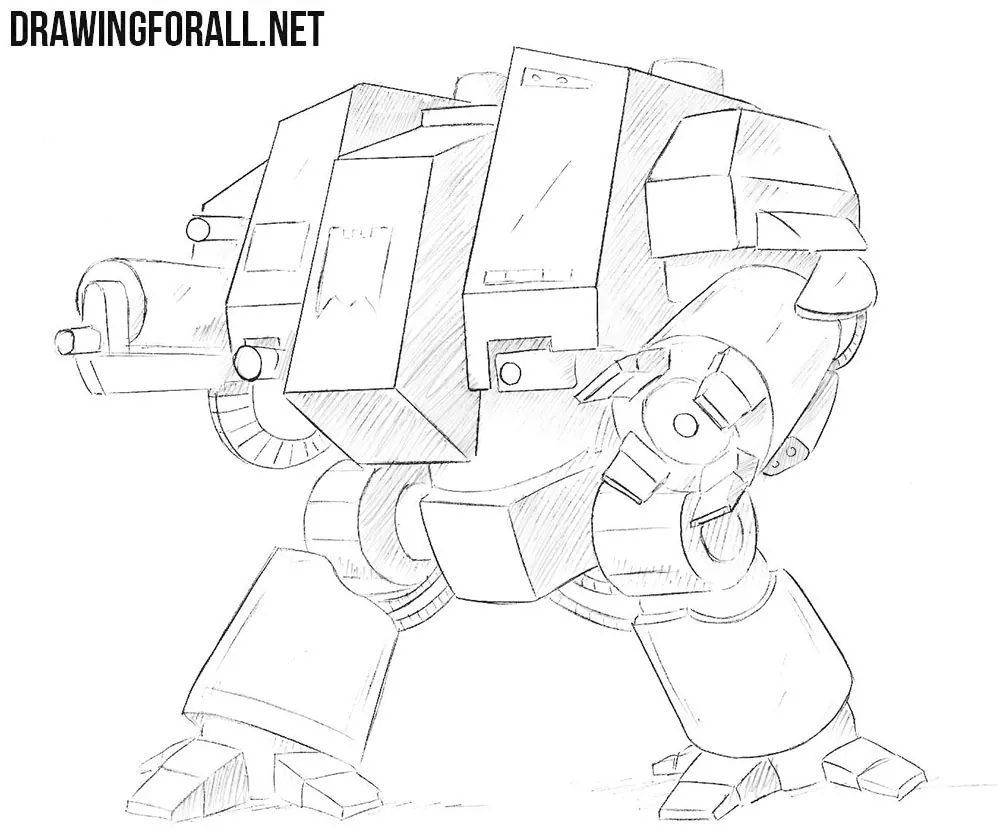 If you like this lesson about Warhammer 40,000, then be sure to subscribe to our updates on social networks and visit our website as often as possible so as not to miss a single new lesson on this universe.