In this drawing tutorial we will show you how to draw the Phantom from Phantom 2040. We love this character because he has a very old-school appearance.
Step 1
We have a first step and we begin with the stickman of our character.  Sketch out the head in the form of an oval. After that, sketch out the spine, thorax and pelvis. As you can see, thorax and pelvis are ordinary round figures. Using simple lines draw arms and legs. Don't forget that all lines in this step should be done with very light pressing on a pencil.
Step 2
Now we will add some volume to our cool hero. First thing first we draw the lines of facial symmetry. Outline the neck and torso, which narrows to the pelvis area. After that we draw powerful arms with simple geometric shapes. Next go down a bit and sketch out the pelvis and legs.
Step 3
It's time to draw a mask.  We don't need to draw details in this step, we only draw contours of the mask. It will be easier for you to draw this step if you use crossed face lines as guide. At the same step we sketch out the lines of the costume and a gun in the hand.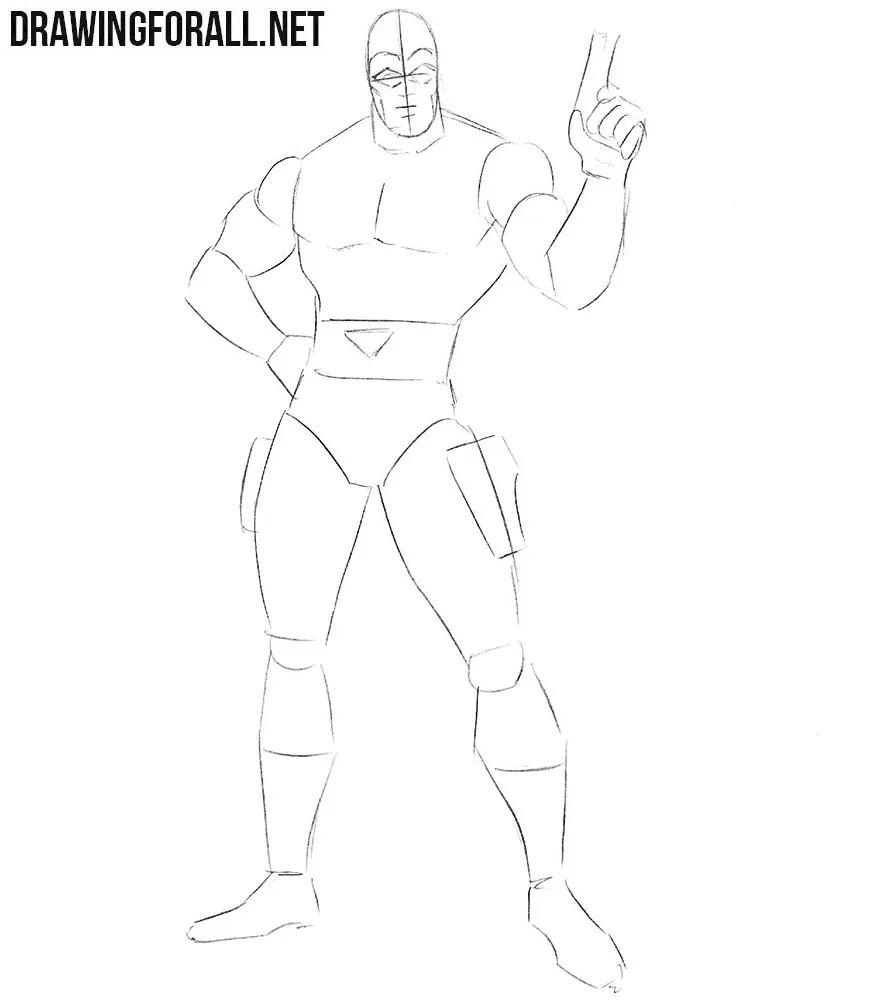 Step 4
In this step we will draw the face in detail. Draw out the eyes hidden by a mask, nose and mouth. As we always say, starting with this step we need to use very dark lines.
Step 5
Draw out the body of the Phantom with the help of thick and clear lines. Draw lines of thorax and abdominal muscles. You can see large pectoral muscles, rib's contours and rectus abdominis muscles. After all actions do not forget to erase all the unnecessary lines from the chest and body.
Step 6
In this step we will draw the arms. First draw the large deltoid muscles, just below draw the biceps, triceps and muscles of the forearms. Don't forget to draw gun in hand. If you have problems with drawing of the palm you should read this article.
Step 7
Before you start to draw you should erase all remaining guidelines and draw out the outlines of pants and details of clothing on the lower body. When you draw the legs, do not forget to take into account the contours of the leg muscles under the clothes. Add all the necessary seams and folds as in our example.
Step 8
Now we have a really simple step. Here we will need to paint some areas of the body as shown in our picture and add shadows. To make shadows and paint over the costume elements, use black and contrast lines. In order to draw lighter shadows, use a dense hatching.
It was pretty hard drawing tutorial, but we got a very nice result. If you like our work, then do not forget to subscribe to us in social networks and share this drawing lesson.