How to Draw a Volkswagen Passat CC
If you are a regular reader of our site, then perhaps you know that our site is full of such cool cars as BMW and Mercedes-Benz. But for some reason not many Volkswagen cars. And today we decided to correct this injustice and created a lesson about how to draw Volkswagen Passat CC.
Step 1
All cars on our website are drawn in approximately one scenario. The first thing we do is sketch out the outlines of the car, which consist of the lower and upper parts of the body.
Step 2
In the front part of the car sketch out the contours of the headlights and radiator grille. In the lateral part of the body draw the outlines of the wheels.
Step 3
The basis of the Volkswagen is ready and now we need to start working with the details. Using clear lines draw out the headlights and grille with the logo "Volkswagen" in the center.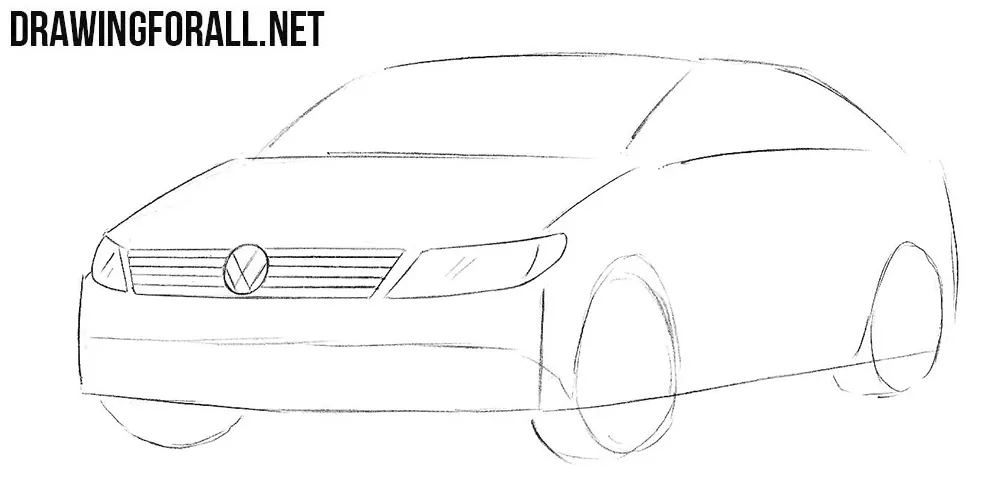 Step 4
Now above the headlights draw out the bonnet. Below the headlights carefully draw out the bottom radiator grille, outlines of the bumper and fog lights.
Step 5
Continuing the lines of the hood carefully draw out the contours of the sloping roof. Next, draw the outlines of windows and pointed rear-view mirrors.
Step 6
Continuing the line of the roof create the outlines of the trunk and tail light. Draw lines of doors, door handles and the bottom edge of the car.
Step 7
With the help of smooth and rounded lines draw out the outlines of wheel arches and the wheels themselves.
Step 8
Now it's time to draw out the rims. You can draw wheel rims like in our example or come up with your own rims design.
Step 9
With the help of long hatches we add glare to the windows and body of the Volkswagen Passat CC. With the help of dense hatching draw shadows.
It was a lesson from the category "Cars" in which we showed you how to draw a Volkswagen Passat CC.