Hello, dear artists! How about drawing a cool car? Yes, we already drew such mega cool cars as Ferrari, Lamborghini and Audi. But today we will show a car, a little more accessible to the ordinary mortal.
So, meet the lesson about how to draw a Subaru BRZ.
Step 1
As in all drawing lessons about cars, we begin to draw from the main outline of the body. With the help of light lines sketch out the outlines of Subaru as in our example.
Step 2
In the front part sketch out the headlights and outlines of the radiator grille. On the side sketch out the wheels, arches and rear-view mirrors.
Step 3
Now let's work with the details starting with the front of the car. Using clear lines draw out the headlights, logo and grille.
Step 4
Let's move to the upper part of our Subaru. Continuing the hood line draw the roof, windows and a rear-view mirrors.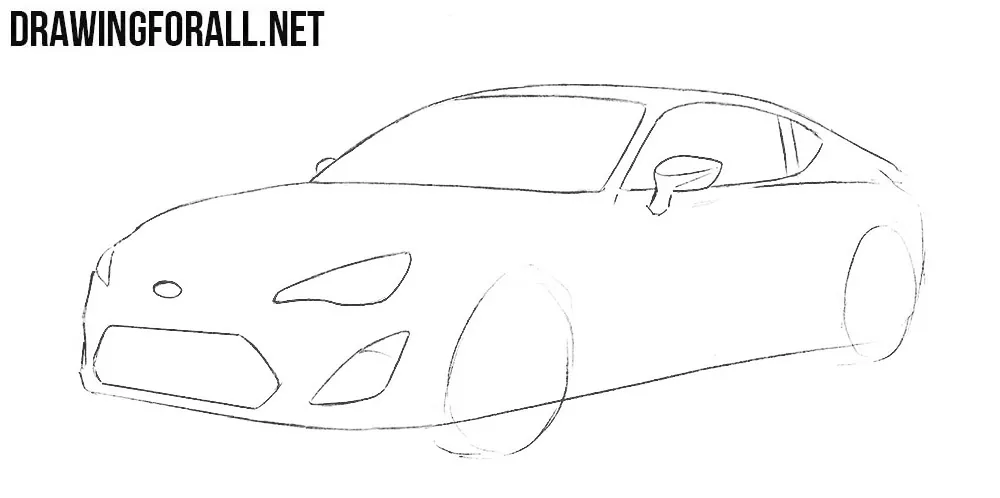 Step 5
Now let's work with the side of our Subaru BRZ. Carefully draw the door and handle. Erase all the guidelines from the body of the car.
Step 6
Now it's quite a difficult step. Using clear lines carefully draw out wheels and wheel arches.
Step 7
Here we need to draw rims. This is quite a hard step, since there are so many details and lines.
Step 8
And remains only to add shadows. Using hatching add shadows to the area of wheels and arches.
Today we worked very well in this lesson on how to draw Subaru BRZ, is not it? Don't forget to share this lesson and subscribe to us in social networks, and visit our "Cars" category, where you will find a lot of interesting drawing lessons.