We continue to practice drawing realistic objects. All artists should be able to draw such simple things as fruits, vegetables and risky jugs.
Among other things, drawing such simple objects helps to learn how to draw clean and add shadows. And today we will show you how to draw a peach.
Step 1
We begin our drawing with a round shape. In the future, it will be the outlines of the peach. This is a very important step and therefore do not be afraid to erase and draw again if you could not draw an even circle the first time. Do not try to draw a very dark circle, just use very light lines.
Step 2
In this step, we draw a stalk and a leaf. To make it more realistic, draw a smooth line under the stalk as in our example.
Step 3
In this step, we erase the lines inside the leaf so that it does not look transparent. We should also draw Now we draw veins on the leaf using several straight lines inside its outlines.
Step 4
And now we just have to work with the shadows. First, we determine the light source and its direction. After that we draw the shadows there where the light doesn't fall. Shadows in our case look like dense hatching.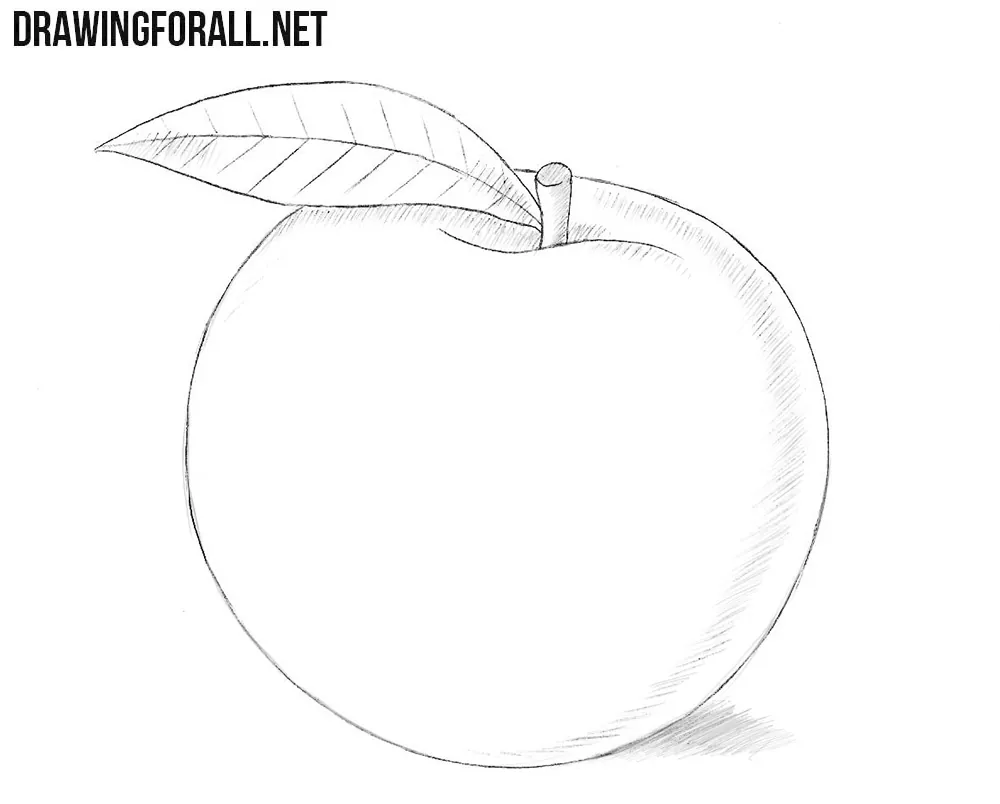 As we said earlier, such articles help artists to understand the drawing of lines and shadows. By the way, the techniques you have learned in this lesson will be useful not only to draw peaches, but also other fruits, such as nectarines and even apricots.
You can draw a peach either separately or as part of a still life on the table. In order to find ideas for other items that will be part of your future still life, go to our categories called "Food" and "Still Life". In these categories, there are a lot of extremely simple lessons that will help improve your skills in drawing. We are not very tired. We hope you too, because we have many new drawing lessons ahead. Do not forget to visit our website often to train your skills. See you later!