How to Draw a Cartoon Dog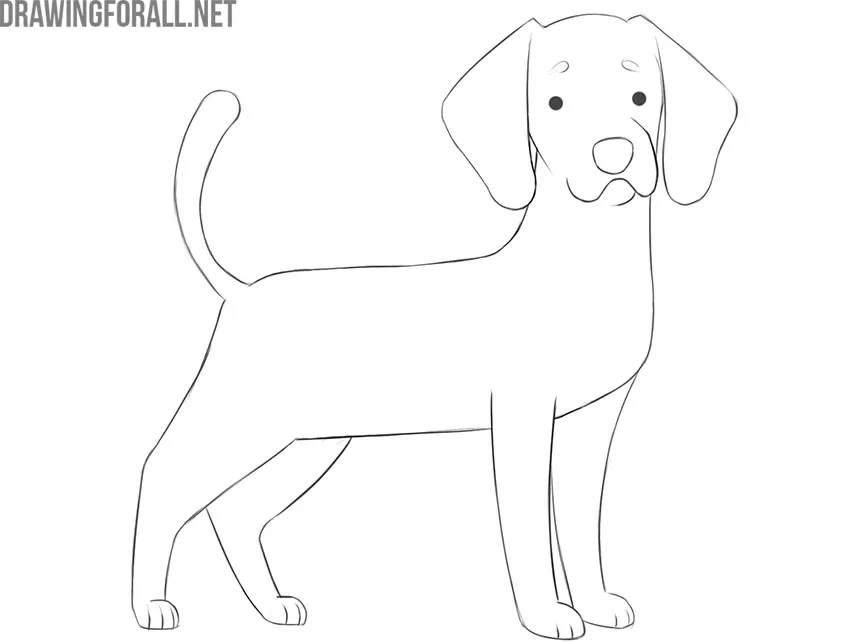 In this drawing guide, we will tell you how to draw a cartoon dog. If you think a stylish drawing should be difficult, we will be happy to convince you. That is why we created this tutorial, which consists of eleven easy steps. Just repeat these stages and you will get great results!
Step 1
So, we start our guide on how to draw a cartoon dog. Let's outline the silhouette of our dog using three circles and one smooth line. Place these shapes in the center of the paper. Avoid overly even and symmetrical shapes. As you can see, the largest rounded shape is localized in the middle.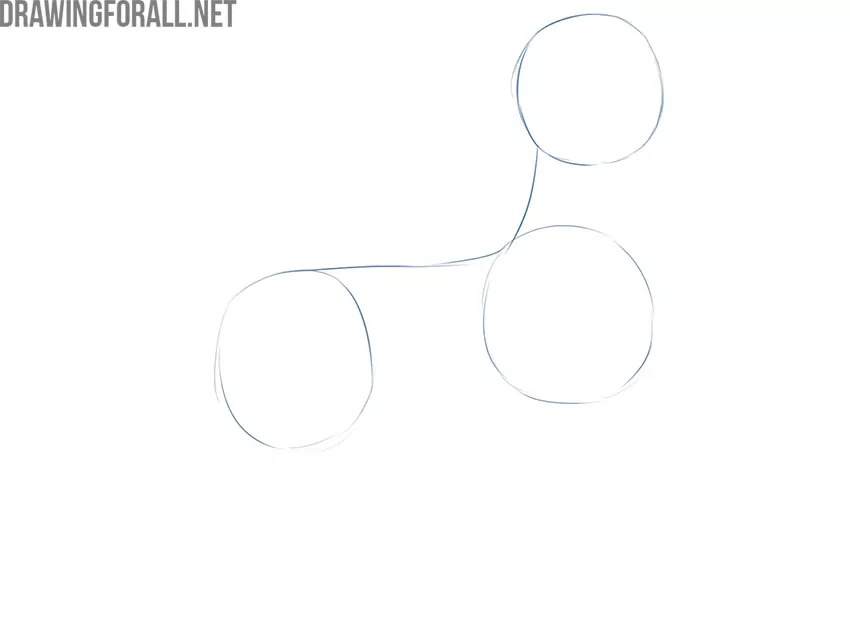 Step 2
In this step, we will outline the outlines of the legs and tail using smooth, curved lines. Before you start drawing these lines, you should think about what kind of dog you want to draw. If you are drawing a tall dog, you should draw long legs. Another important action from this step is drawing a horizontal line inside the face outline. This will help us draw the eyes in the next steps.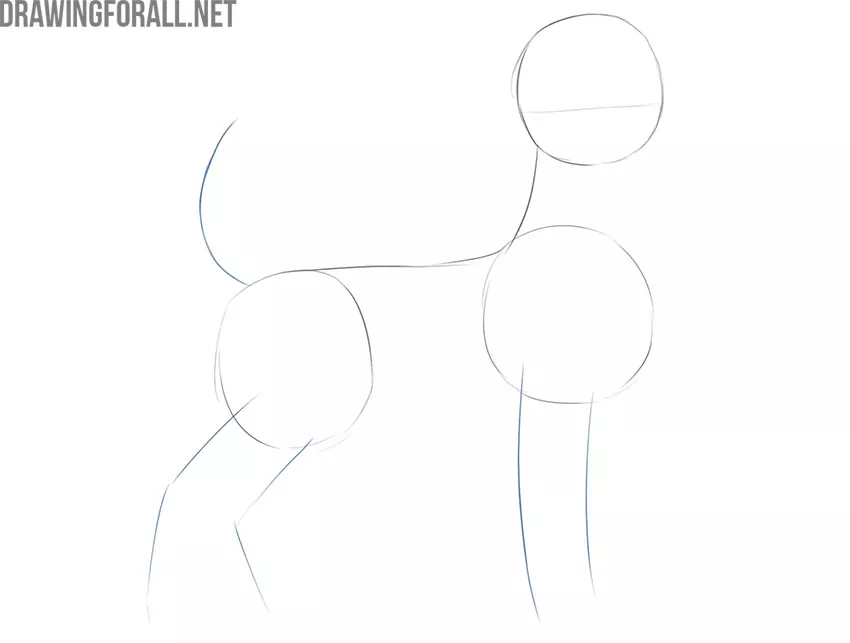 Step 3
Drawing a dog isn't that hard, is it? Let's continue. Now let's depict a pair of ears. This depends on what kind of dog you imagine. In our case, this is a dog with large ears that look like a pair of triangles next to the head.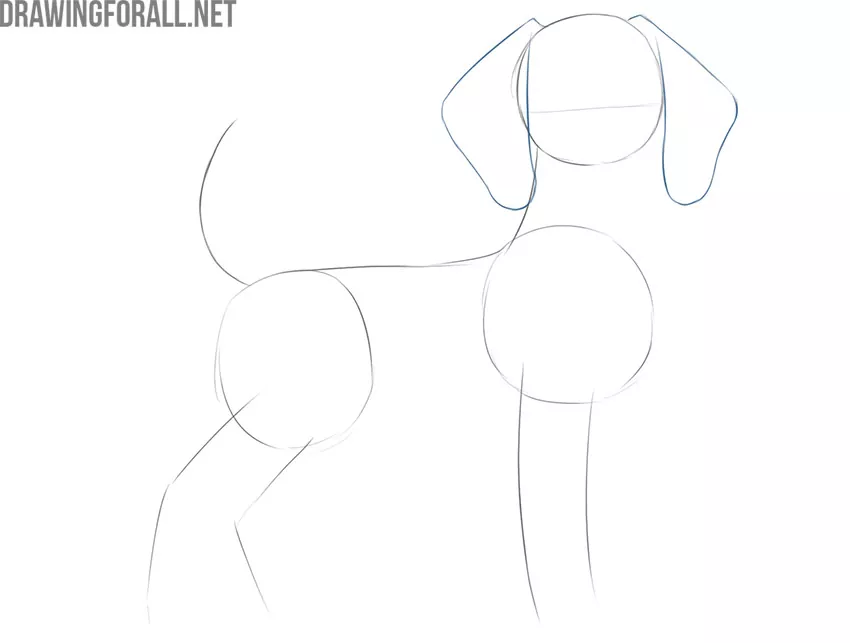 Step 4
Drawing a dog's face is one of the easiest things ever to do. Don't believe me? Try to draw two dots and two more smooth lines, as in our sample. Focus on the line from the first step, this will further simplify your task.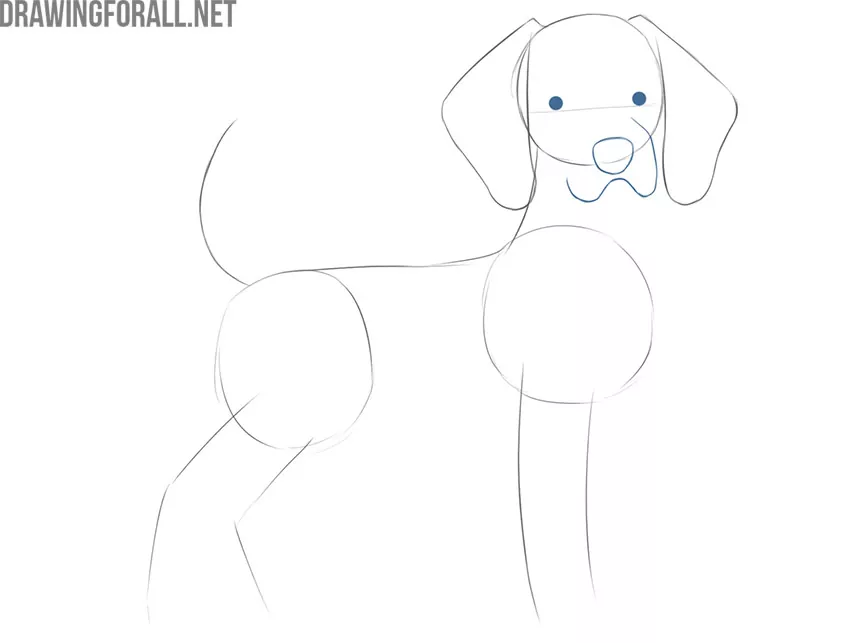 Step 5
Now we will start to close this dog's body contour. To do this, we will draw a smooth line that starts from the neck and continues to the farthest rounded shape from the first step. As you can see, there are no sharp bends here.
Step 6
So, earlier we drew the head and body of our dog. Now let's draw the legs. First, we will draw the outer contours of the forelegs using two cylinders. As you can see, these shapes have a slight taper downward.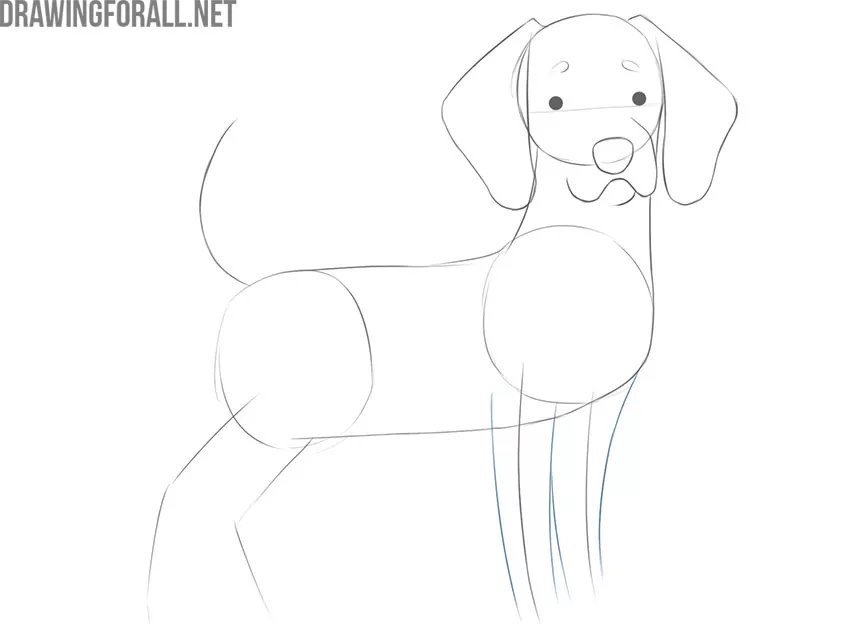 Step 7
Let's complete the action from the previous step. Let's draw the fingers of our dog. To do this, draw rounded shapes at the distal ends of the legs. After that, we sketch out two more short lines with which we will depict the fingers. Try to avoid over-detailing so as not to make the picture more complicated.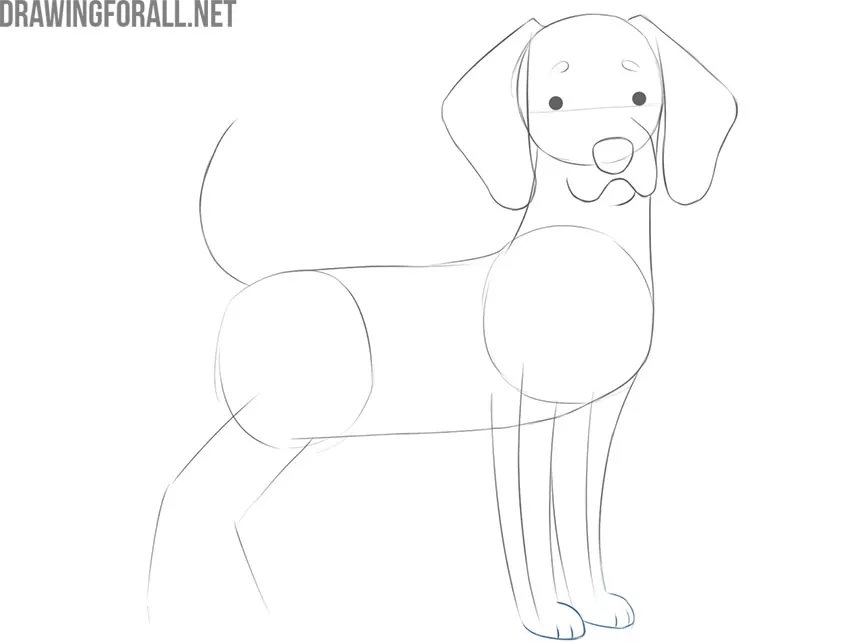 Step 8
The hind legs of animals often have an unusual curvature in the form of an obtuse angle. Let's draw the final outlines of the hind legs, paying attention to this feature. Note significant distal narrowing.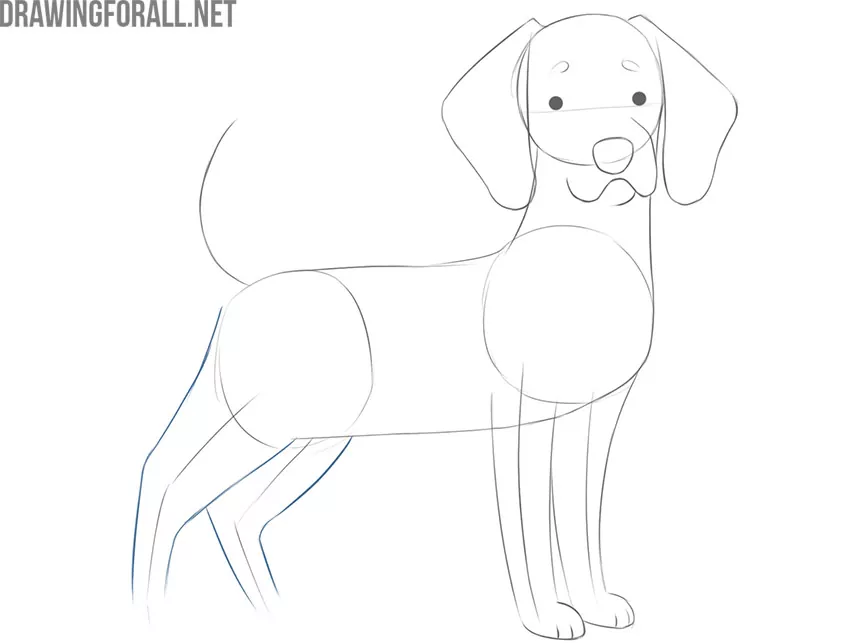 Step 9
So, we continue to draw small details. In this step, we will draw the small, rounded toes of our dog. Avoid oversized shapes. Pay attention to the relative position of the fingers.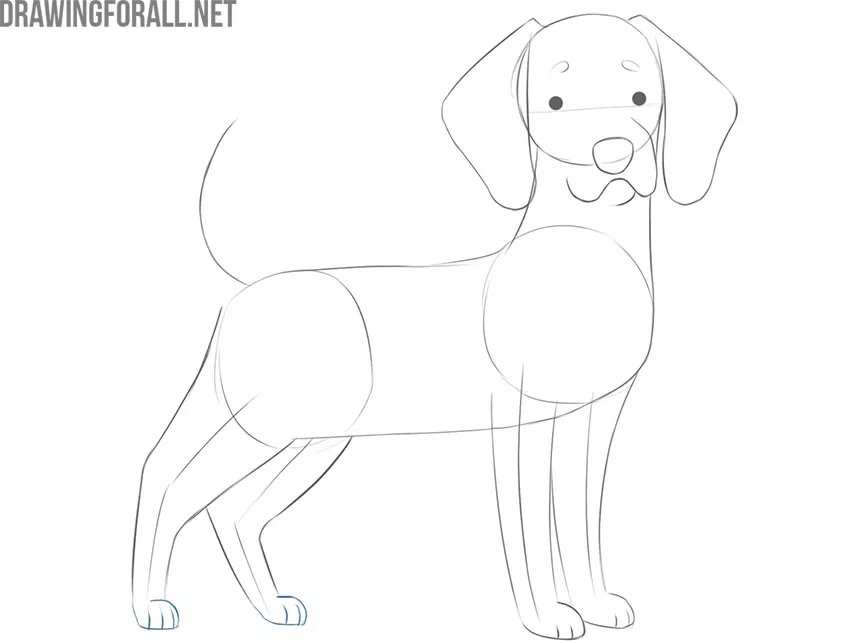 Step 10
It will be a very small step. Here we will finish the contours of the tail of our dog using a smooth line that is parallel to the line of the tail from the second step. If you want, you can make the contours of the ponytail more tousled.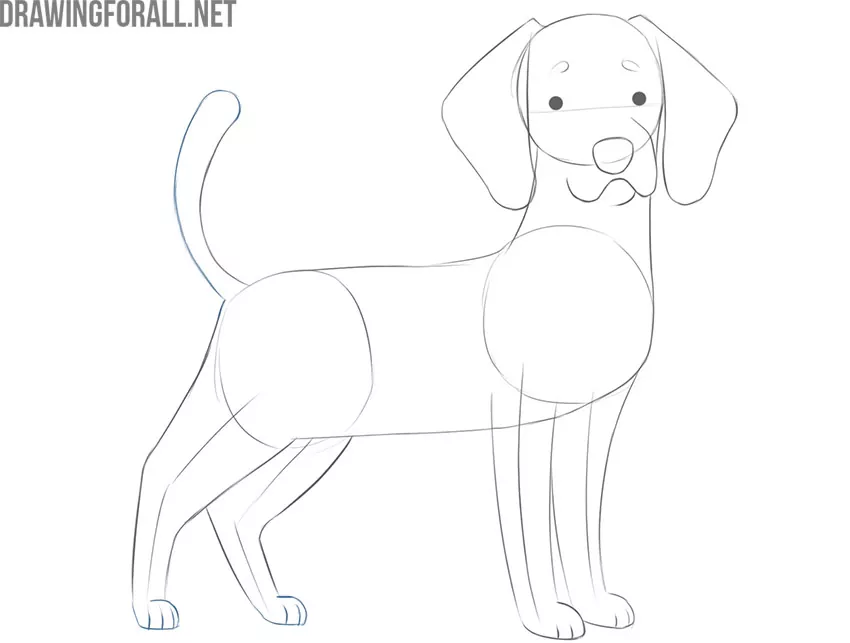 Step 11
In this step, we will remove all unnecessary guidelines from the previous steps using the eraser. Once again, check the correctness of the lines and shapes. We also outline the final lines with clear, confident strokes.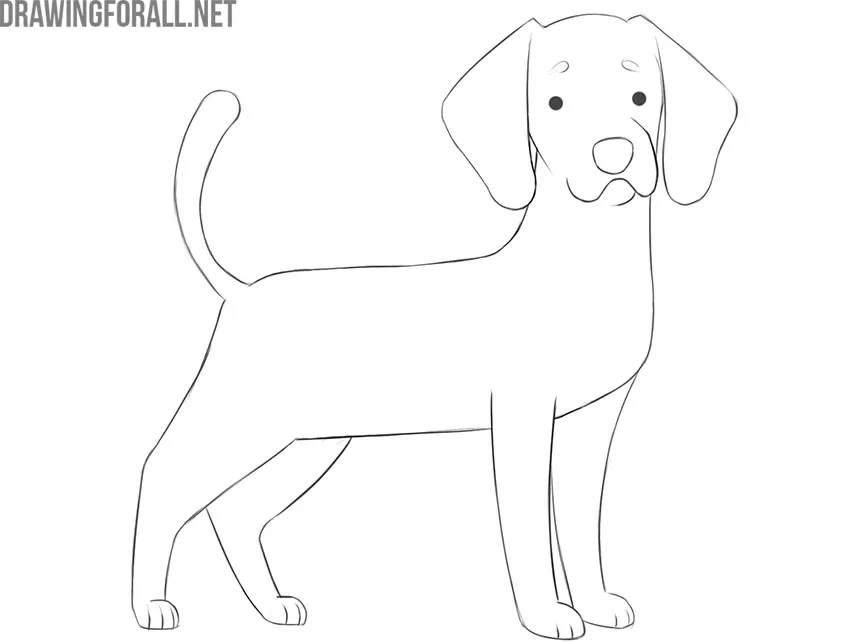 So, this drawing guide is over. We have a page on Facebook, and you can learn all about the new drawing lessons on this page. Please, do not forget to subscribe, to be aware of all the updates. Also, share this drawing lesson. If you have any suggestions and wishes – be sure to write about it in the comments section below this article.