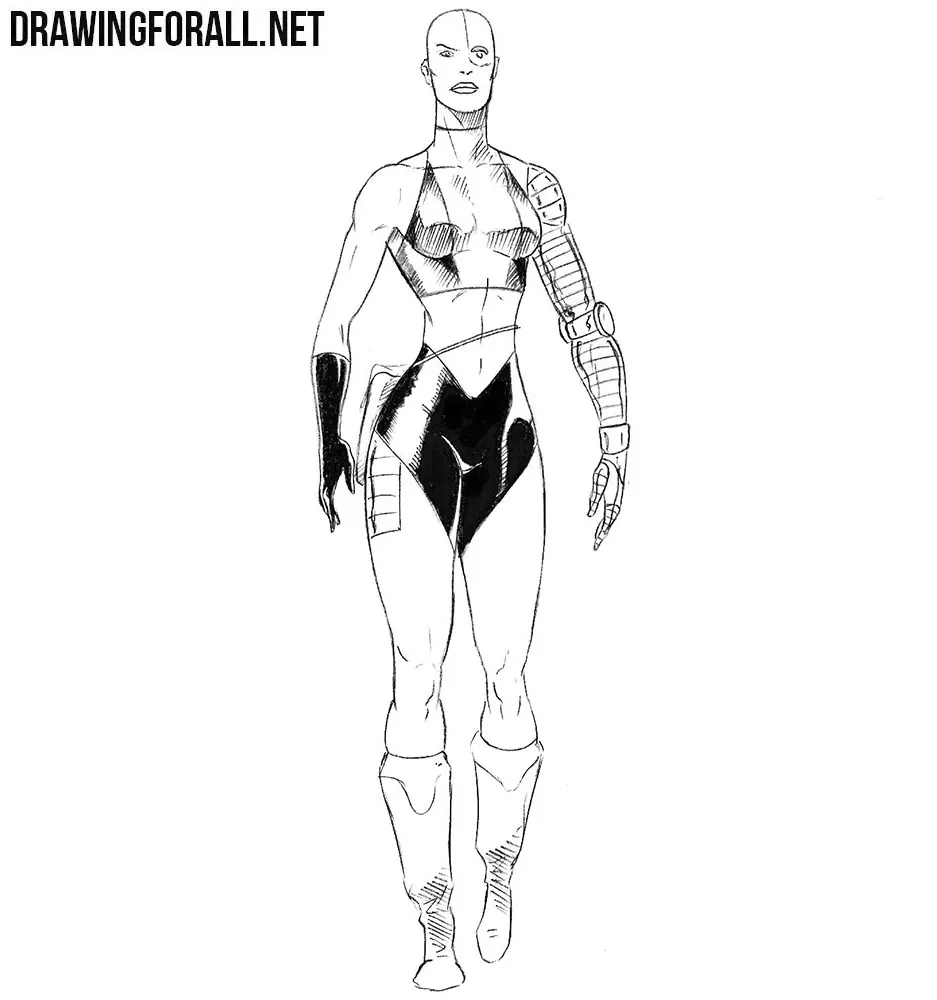 Have a nice day, dear readers. In this drawing tutorial we'll show you how to draw Nebula step by step. This is the character that appears in the Marvel Universe. You can see Nebula in the first part of  Guardians of the Galaxy movie.
Step 1
We will start this drawing tutorial with the stickman. Sorry, stickwomen. So we draw the head of our Nebula in the form of an oval, spine, thorax, pelvis and limbs. In this step we will use only light and almost translucent lines. Don't forget to read this drawing tutorial (step 1) about how to draw female figure.
Step 2
This step is also similar to other drawing tutorials of females who have been on drawingforall. So outline the figure in the direction from the head to the feet, but the first we will work with her head. Draw two crosing lines inside of face's contours – vertical line will indicate facial symmetry, and the horizontal line will help us to draw the eyes.
After that you should draw the body. It is similar to hourglass. Then outline the arms, using smooth and narrow cylinders. Note that the arms should not be massive and inflated (we draw a girl, not Hulk). Sketch out the shoulders, elbows and hands.
Step 3
Now it's time to add the most basic details to our drawing. We will do this from the head to the legs. So in this step we sketch out eyes, nose and mouth. Now go to the corpus and sketch out the outlines of the costume, as you can see in our picture.
Step 4
In this step we draw the details of the eyes, eyebrows, nose and mouth. You can see a pattern that similar to the angle that located around the left eye. Don't forget to draw it. After these actions you can delete the extra lines from the head.
Step 5
It's time to draw Nebula's clothes. In this step we will draw clothes that is located on the top of the body and on the neck. Also we will draw collarbones, breast and stomach.
Step 6
Now let's move to the arms. Carefully draw out the left shoulder – as you probably know it is a cyborg's arm, not human's arm. It looks like an ordinary arm in armor. Please note that this arm does not look large and powerful.
Step 7
Using smooth lines here we carefully draw out the femurs, which smoothly pass into the legs. Draw quite high boots and all the details on them as shown in our example. To complete this step, erase any remaining unnecessary guidelines from the drawing.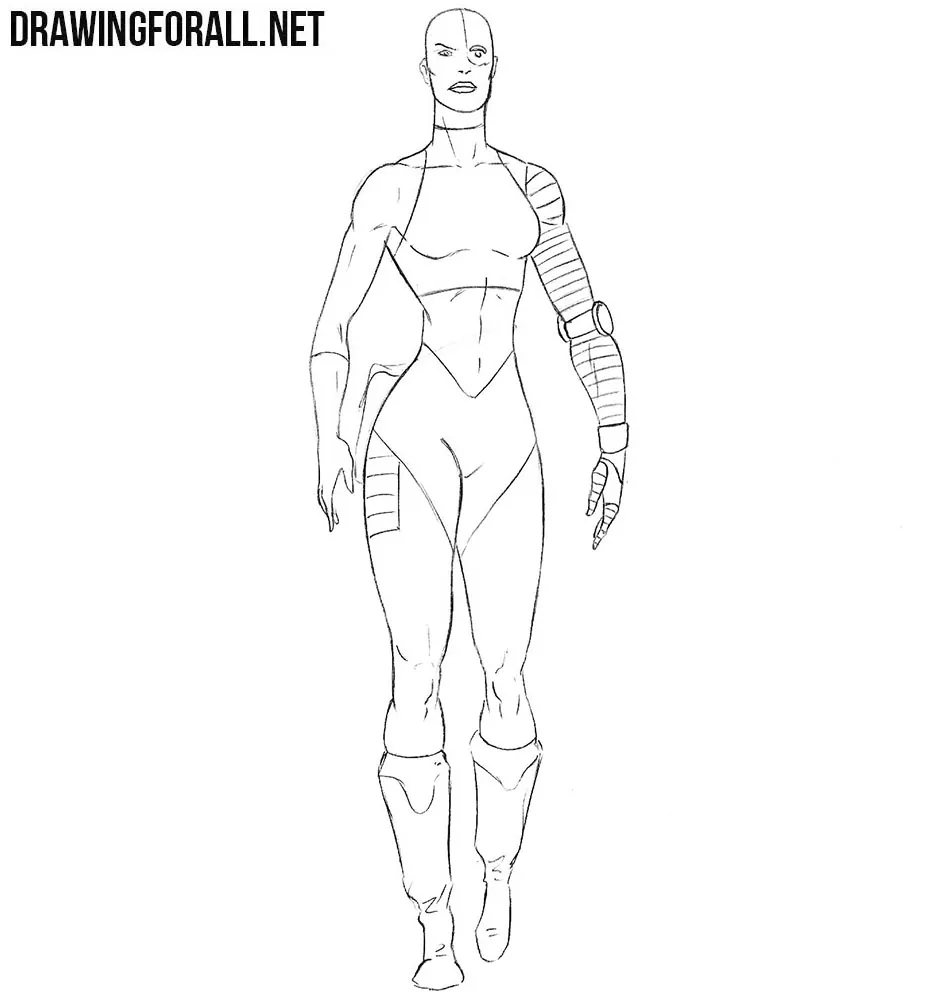 Step 8
And it's time to draw the shadows. We will draw the shadows in the form of classic shadows in the comics style. That is, the shadows here look like black and contrast areas. In order to draw lighter shadows, use classic hatching.