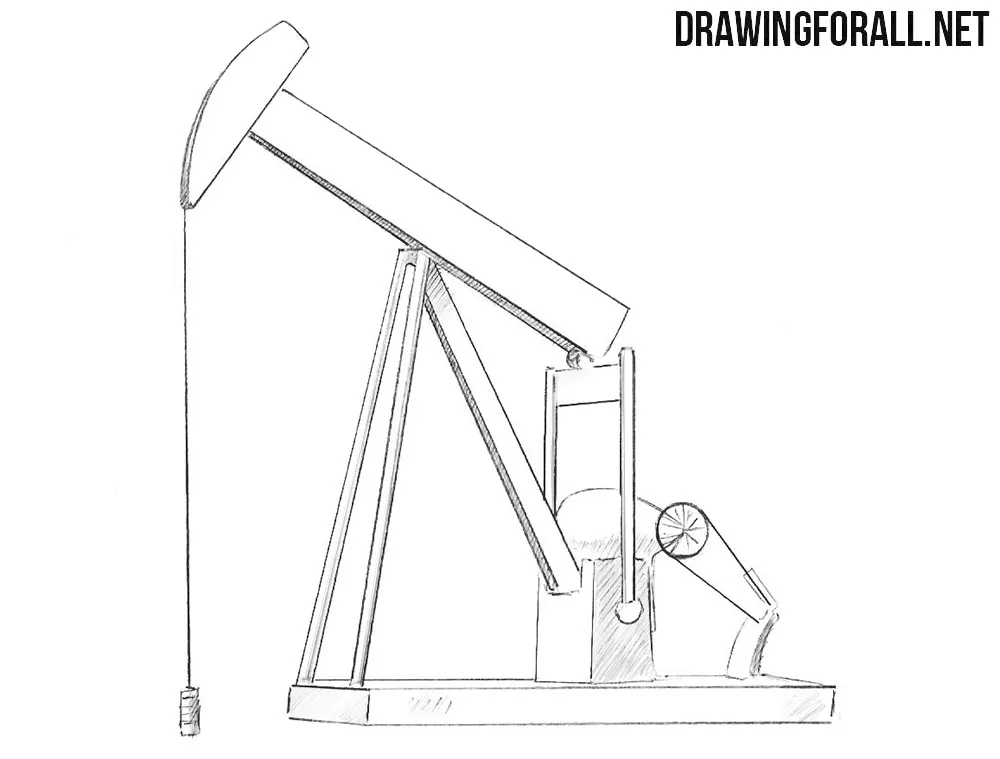 At the end of almost every article of our article, we usually ask our readers to write us their wishes about future drawing lessons. And for some reason, many of our readers wanted us to show how to draw an oil well. Well, the drawing lesson is ready, and it's time for to start the drawing process.
Step 1
This drawing lesson will be extremely simple, and it will start with extremely simple lines. To begin with, we outline the moving part of the oil well, which looks like a pickaxe or a hammer.
Step 2
Now sketch out a few details a little lower that the part of the oil well, which we drew in the previous step. By the way, all the lines of the first steps should be very light.
Step 3
Now, with the help of long and straight lines, we carefully draw out the outlines of the upper part of the oil well. You can draw them with a ruler, but it will be better if you could cope with it without a ruler.
Step 4
Now we need to do the same, but with the lower part of the oil well. That is, using clear and straight lines, we will simply circle all the lines we have drawn in the second step of the tutorial on how to draw an oil well.
Step 5
The last step remains, and the process of drawing the oil well will be completed. With the help of dense hatching, we will add some shadows to those areas where the light does not fall.
What could be better than having your own oil well? If you have an oil well and it has accident insurance, then you have plenty of time to draw and read our drawing lessons. But be that as it may, we hope that you enjoyed this drawing lesson. Write us your wishes and comments, your opinion is very important to us.