How to Draw a House for Beginners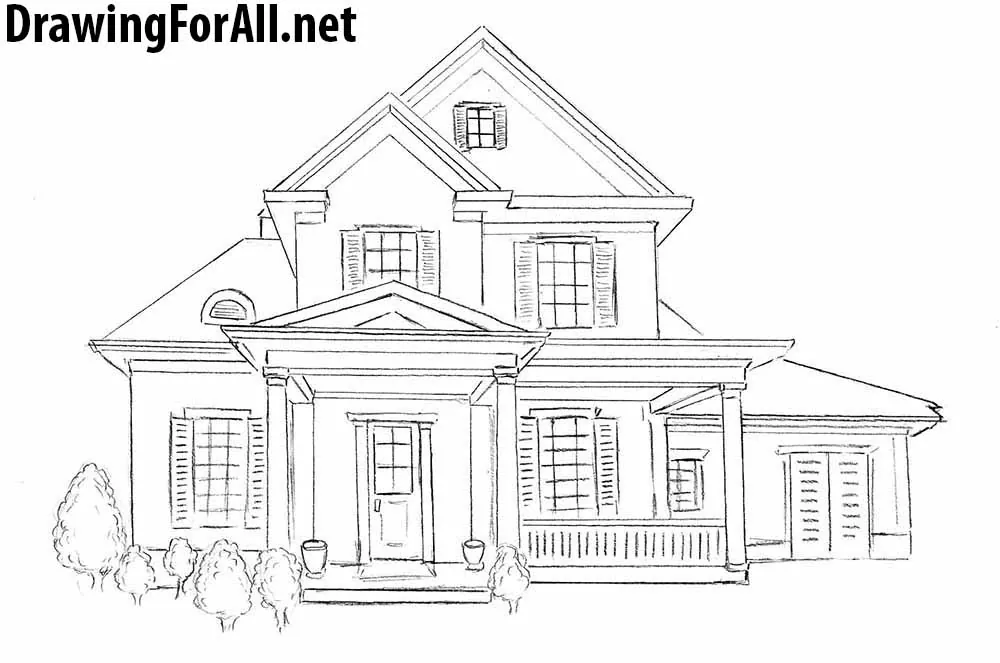 Hello, dear readers! Today we bring you a new drawing lesson, in which we will touch upon the theme of architecture. As you have already guessed, today's lesson topic – how to draw a house for beginners, let's get down and start to draw!
Step 1
Our tpday's house will be very classic – a neat, compact building, which is designed for a large family. Therefore, it will look a little more complicated than a hut.
So, first sketch out the main lines of our future home. These lines do not have to be perfectly smooth at this step.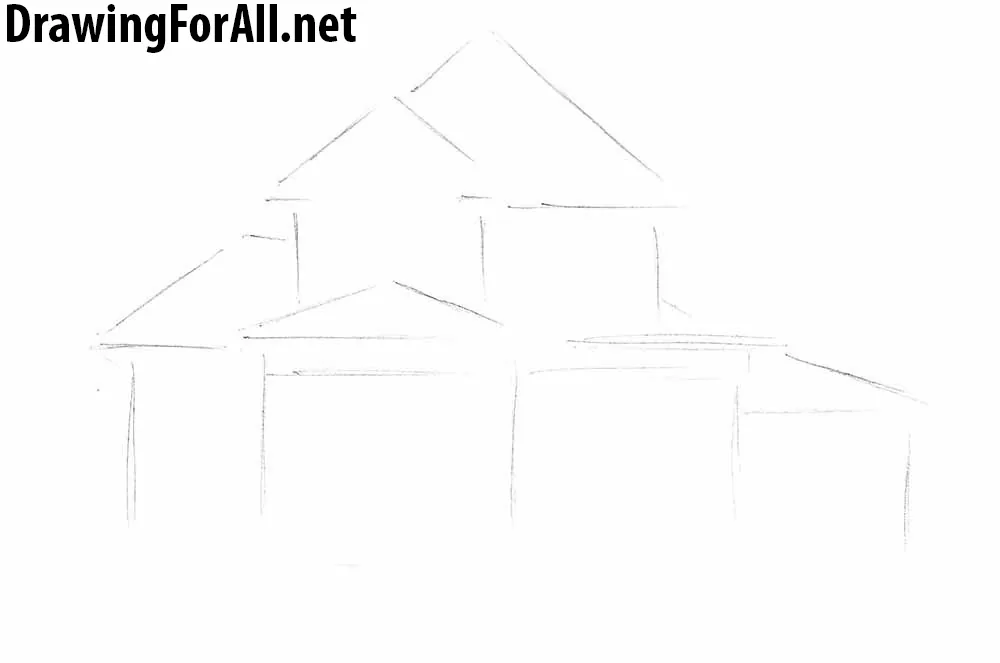 Step 2
Here we draw a lot of new details and lines. This step is not as complicated as it seems. At this stage sketch out the windows, door, pillars and the roof with the help of simple and light lines.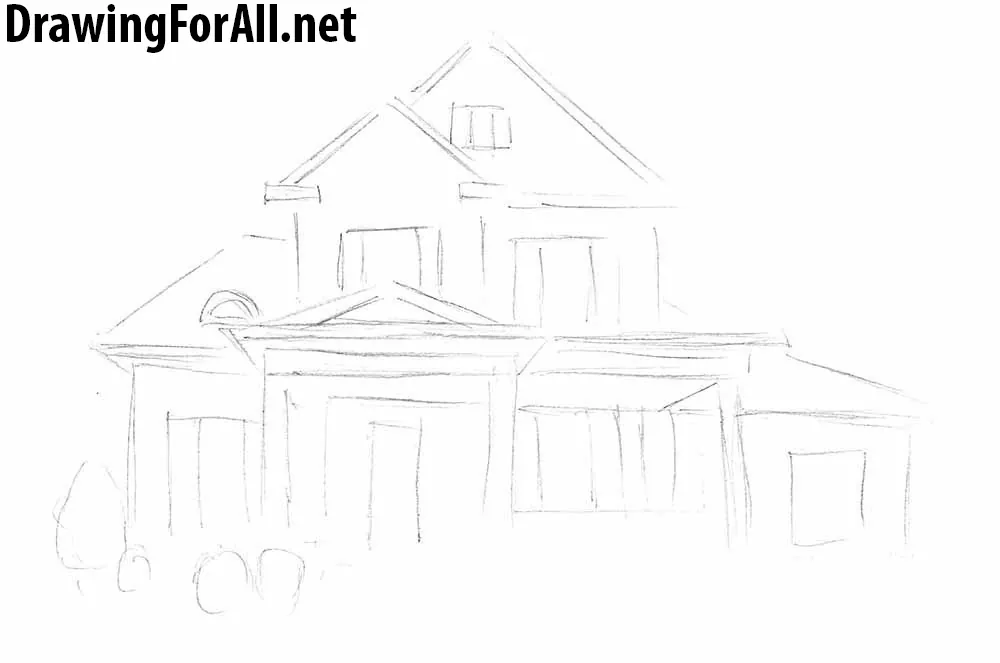 Step 3
Now comes the time of strict, smooth lines, and here we should draw very carefully. Our artists love to add details from top down. So draw roof by a several smooth, symmetrical lines. Here also draw the shutters and window.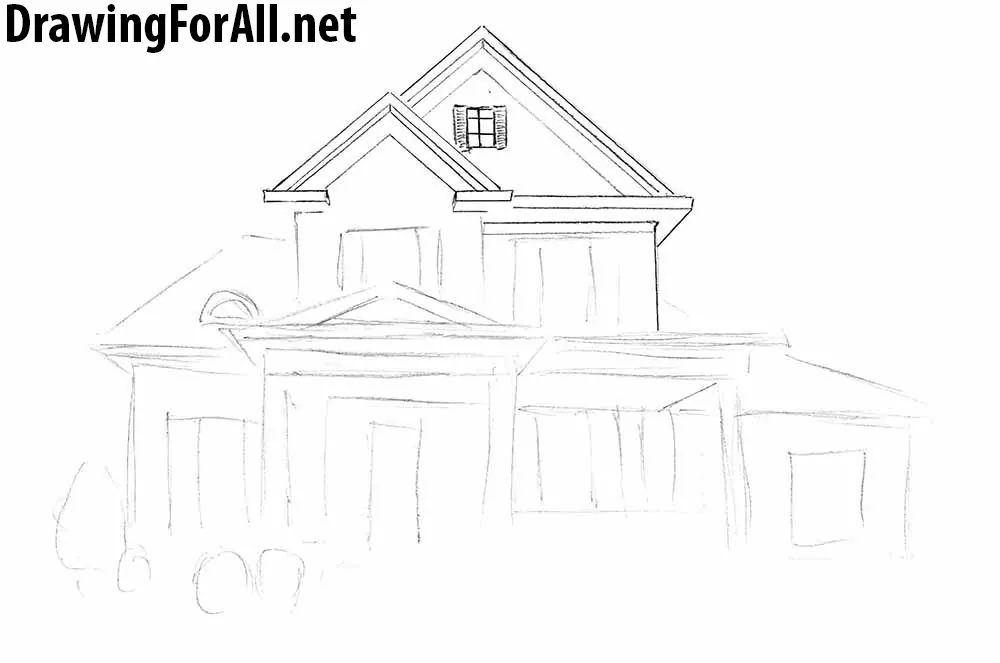 Step 4
Very short stage. Here we draw the remaining part of the second floor. Also draw big windows as in our example. Note, that the lines of these steps should be very straight and clean.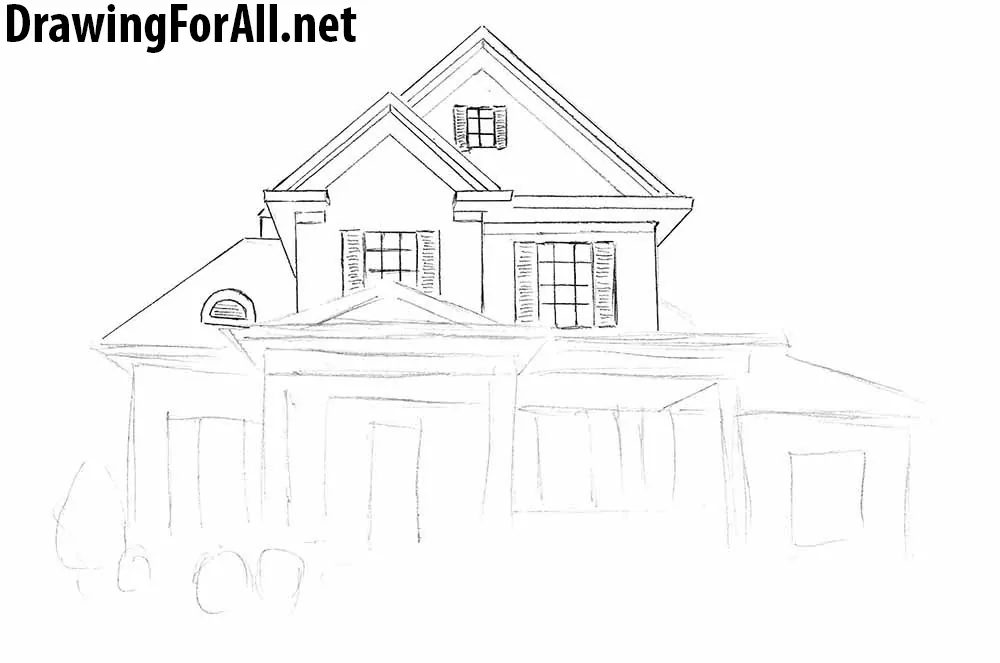 Step 5
Here we draw the porch of our house – the roof, columns, cornice and the door – everything except the door handle must be absolutely symmetrical. Naturally, we are referring to the symmetry with respect to the porch, but not the entire house.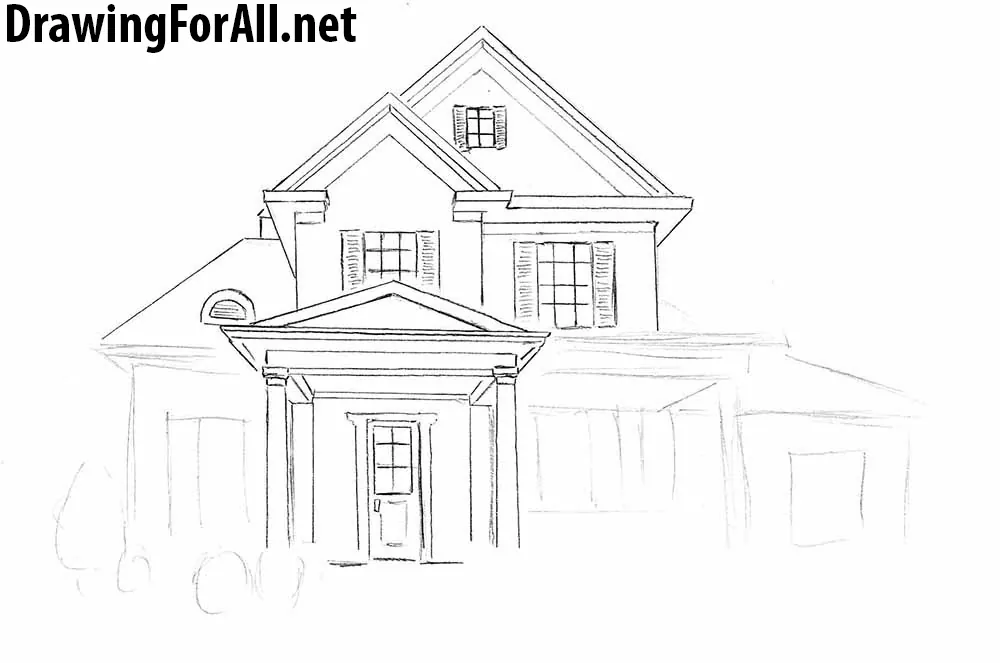 Step 6
To the right of the porch we draw the veranda. Here we can see a window, cornices and columns. Everywhere should be kept clear lines and symmetry.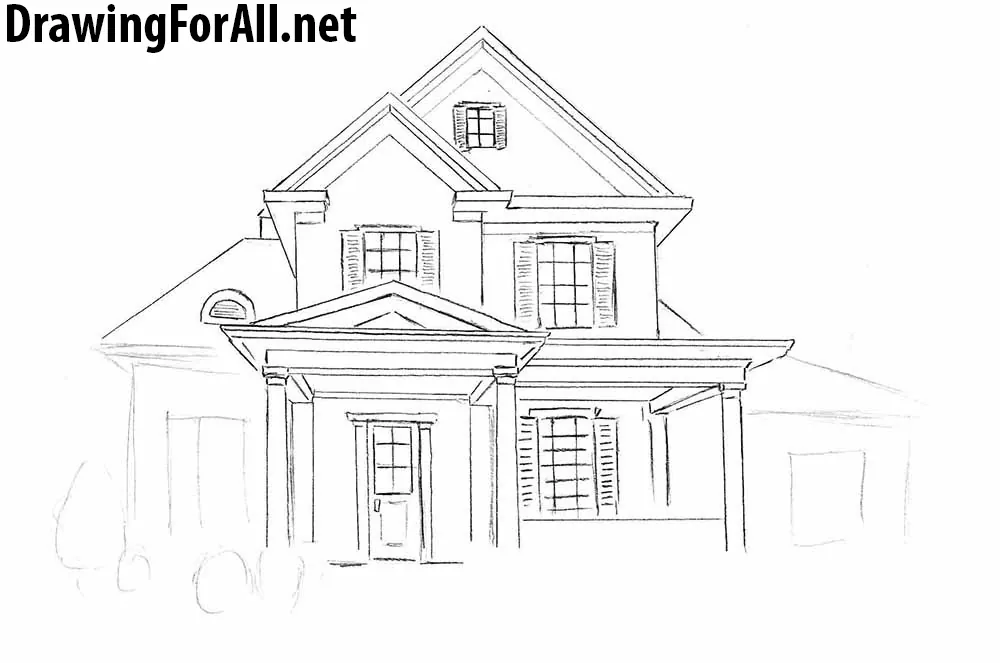 Step 7
Now we draw the part of the house located on our left. Using wavy lines outline the contours of bushes that grow in front of the house.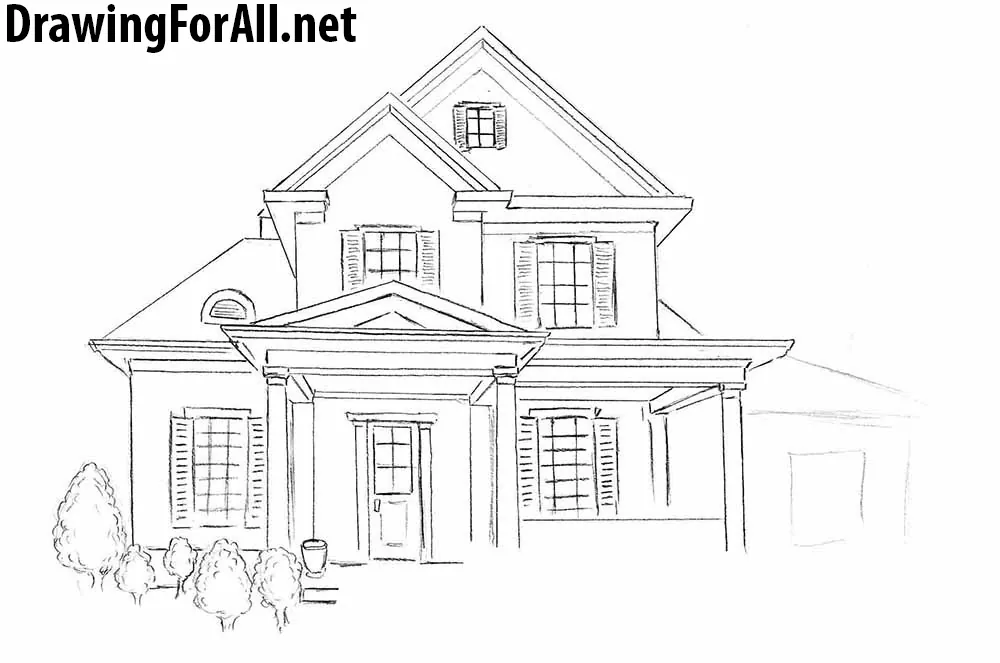 Step 8
At the end of the tutorial on how to draw a house for beginners we draw the part of the house that located the right of us.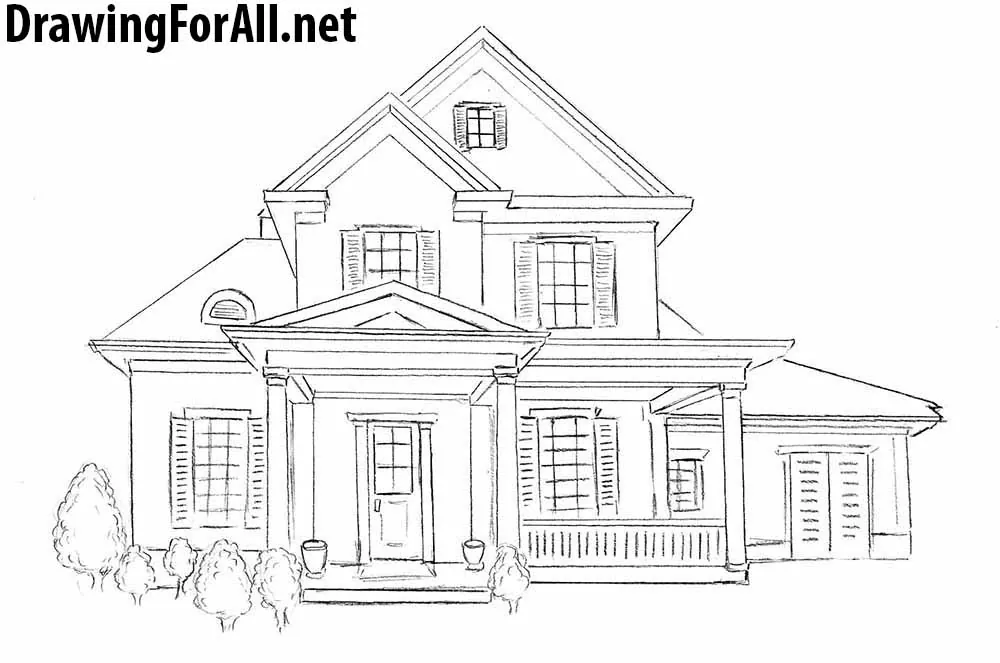 If you have to draw the house as in our example on the first attempt, then you're done a very good job. But if not, don't upset, move to the step, where you make a mistake, and try again. And we are confident, that if you will try and not throw attempts, you will be able to learn how to draw the house as it does our artist. And, of course, to be aware of the new drawing lessons subscribe to us in Google Plus, Facebook, Pinterest and other social networks.