How to Draw a Chevrolet Impala 1964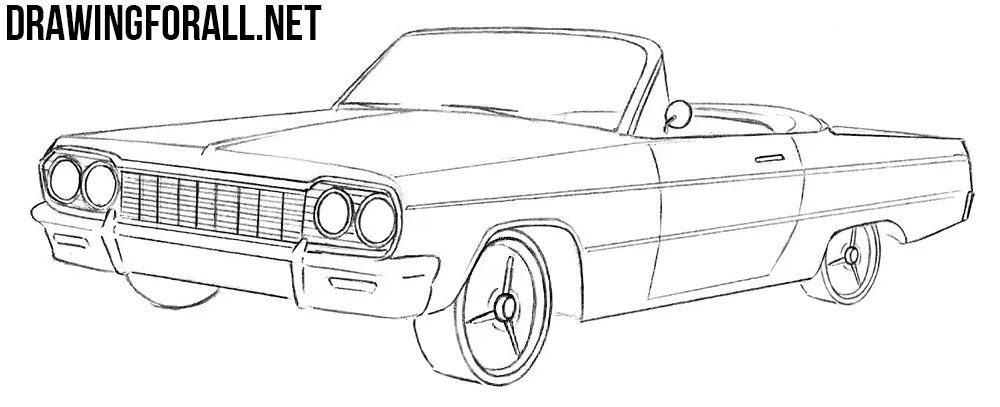 In this pretty simple drawing tutorial the team of Drawingforall.net will show you how to draw a Chevrolet Impala 1964. It is an American classic car, that was produced by Chevrolet Corporation as a model from 1958 to 1985, from 1994 to 1996 and from 2000 to this day. In fact, Chevrolet is not such an expensive and prestigious brand like Cadillac, or Lincoln. You could buy Chevrolet Impala in 1964, that is, in the years of its production for reasonable money. But a few decades later, this car became a real legend of the streets, and the team of Drawingforall.net wants to touch on this legend in this guide about how to draw a Chevrolet Impala.
Step 1
Let's sketch out the general outlines of our Chevrolet Impala 1964. As you can see, the outlines of the Chevalier Impala look like a long and flat rectangle. We draw a car with an open roof, but you can draw with closed.
Step 2
Let's add some general details. In the front of the car we add the outlines of round headlights, rectangular grille and a long bumper. Further, we sketch out the wheel arches and wheels.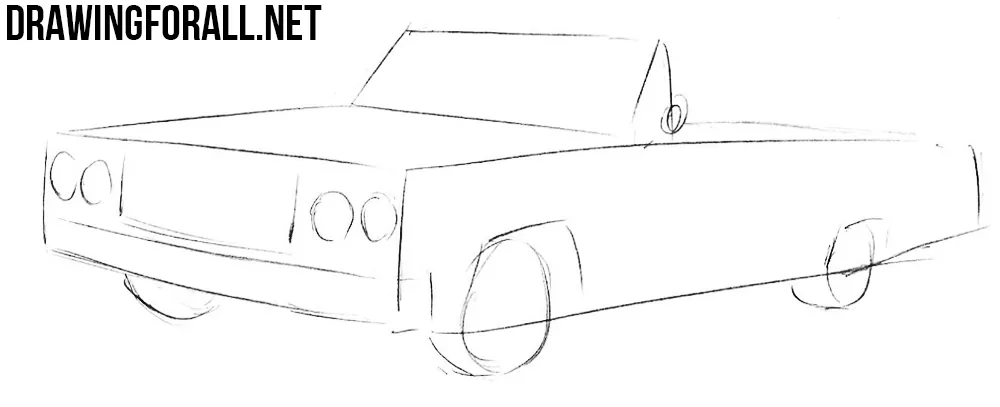 Step 3
Let's move on to the final details. Using hard and dark lines draw out round headlights. Draw a wide grille between the headlights. Around the grill and headlights we draw a frame.
Step 4
Under the headlights we will draw a wide metal bumper with fog lamps. Next, draw a long hood with longitudinal lines. Sketch out the windshield wipers and move to the next step.
Step 5
After the bonnet we move to the top of the Chevrolet Impala. Here we need only draw a windshield. Draw a rear-view mirror on the side. Now draw a soft roof at the rear of the car and move to the next step.
Step 6
Let's move to the side part of the Chevrolet Impala. Draw out the door with the handle. Then draw the back and bottom of the Chevrolet Impala. Draw moldings on the side of the car and move on to the next part.
Step 7
Draw out the wheel arches. Now, probably the most difficult thing – the wheels. Wheels should be very even and rounded. It's quite difficult to do, but if you try hard, you will succeed.
Step 8
Here it is – the last step in the lesson about how to draw a Chevrolet Impala. You can draw rims like in our example or classic spoke rims. In addition, you can add shadows as for example in the lesson about the Chevrolet Camaro or Ferrari.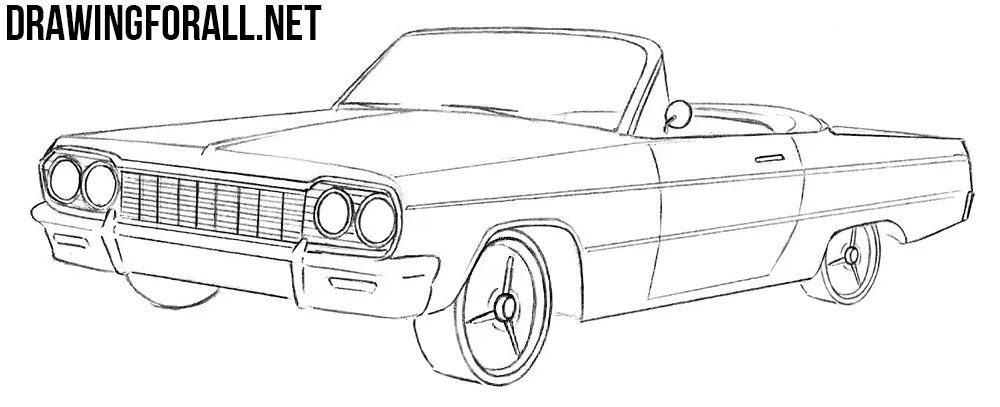 So, today we draw a legendary car – Chevrolet Impala. But besides this car, we have a huge number of cool and legendary cars that you might like. Also, you can share this drawing lesson and subscribe to us on social networks.