How to Draw a Subaru Impreza WRX STI
Hello dear artists and welcome to the drawing tutorial about how to draw a Subaru Impreza WRX STI. As you know it is a sports sedan/hatchback manufactured by Subaru with a more powerful engine and other suspension settings, unlike the younger brothers Subaru Impreza and Impreza WRX. But of course, all these models are drawn exactly the same, so let's start this drawing lesson!
Step 1
First of all, using very light and simple lines sketch out the general outlines of the Subaru Impreza as we did in previous drawing lessons about cars.
Step 2
Another very simple step. Using semi ovals sketch out wheel arches and using ovals sketch out the wheels themselves.
Step 3
Using clear and smooth lines draw out the headlights and radiator grilles between the headlights. In the middle of the grille draw the logo of Subaru.
Step 4
A little lower draw out the lines of the bumper and lower radiator grille. You also can draw a registration plate on the bumper.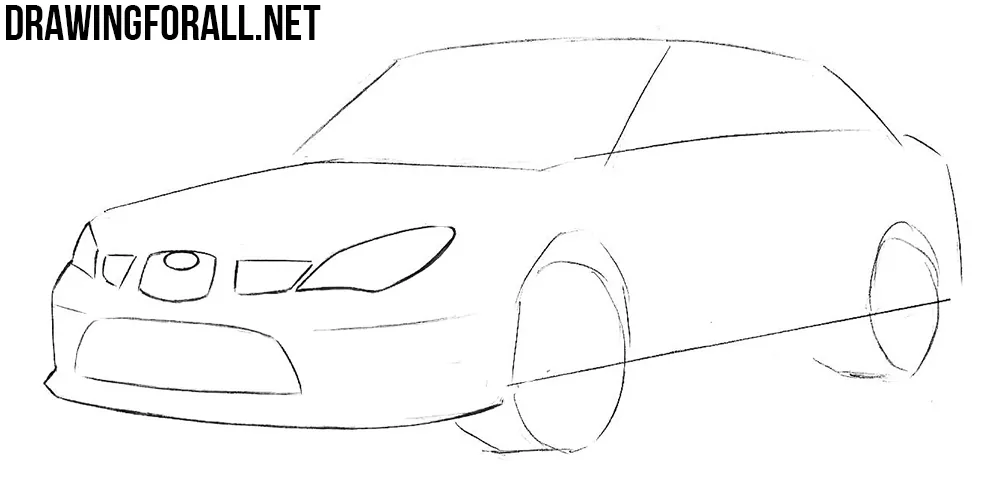 Step 5
Now let's draw out the hood, using long and slightly curved lines. In the middle of the hood draw out the air intake.
Step 6
Now let's move a little higher and draw out the line of roof and window lines. Draw out the rear mirrors and move to the next step.
Step 7
We'll go down a little lower and draw the lines of doors that continue the lines of the windows. Draw out the door handles and the bottom edge of the car between the wheels.
Step 8
In the second step, we sketched out the wheels. Now we need to make the lines of the wheels and arches more clear and dark.
Step 9
It remains the last step in which we just draw out the wheels, which of course can be any shape. You also can add some shadows, as in tutorials about Chevrolet Camaro and Ferrari.
The drawing tutorial about how to draw a Subaru Impreza WRX STI came to an end. This is just one of the whole bunch of drawing tutorials about cars. So, don't forget to visit all these drawing tutorials and share them with your friends.